My name is Julian Sebothane Bahula, and I was born and brought up in Pretoria, South Africa.
In the 1960s, I became a professional musician and composer, and was very famous throughout South Africa with the Malombo Jazz Men.
In those days, all South Africans were political in one way or another and, while I was in Durban, I worked with a political theatre group called the Tekon Players. We cooperated with Steve Biko, the leader of the Black Consciousness Movement, who addressed the audience at our performances about the cruelty of apartheid.
Exile
In 1973 I had to leave my country because of my political activities. I came into exile to Britain to campaign for the freedom of the people of South Africa. I worked with the African National Congress as a cultural worker and I formed a band called Jabula. We travelled all over Europe, USA, Cuba and West Africa, raising awareness for the struggle against apartheid in my country.
In 1983, during the 'Release Nelson Mandela and All Political Prisoners Campaign', I had the idea to do a birthday concert for Mandela's 65th birthday and, with the help of the Anti-Apartheid Movement, the first Nelson Mandela birthday concert took place, on 18 July 1983, at Alexandra Palace. This acted as a precursor to the 1988 Mandela concerts at Wembley Stadium and helped to galvanise world opinion in favour of the African National Congress.
In 1990, the African National Congress was un-banned and, after Mandela and the other political prisoners were released, I was able to return to South Africa at last. It was a very emotional time, and my wife and I were met at the airport and taken straight to meet with Mandela at his home in Soweto.
Accident
Early in the new year of 1997, on 5 January, I asked a friend to drive me to visit another musician friend and, on the way, we were involved in a terrible accident, which nearly took my life. I was in a deep coma for many weeks and I was not expected to survive. I had led a very sinful lifestyle before the accident and, like many former exiles, I was often drunk, but I had heard the gospel from my wife's family.
Later, I was told that, while I was still unconscious, the whole choir from a church in Mamelodi, my hometown, came to sing to me and say prayers. Many pastors, both black and white, used to visit me, reminding me of the gospel message.
My wife Elizabeth had drifted away from the Lord, but every day she prayed for me, as did many others, including the whole congregation at Dudley Baptist Church in Britain, where my wife's family worshipped at that time. Elizabeth was then wonderfully restored from her backsliding.
After people visited me in hospital, when they left I felt an emptiness and loneliness within that I cannot describe, but the prayers of so many were heard and the Lord answered those prayers.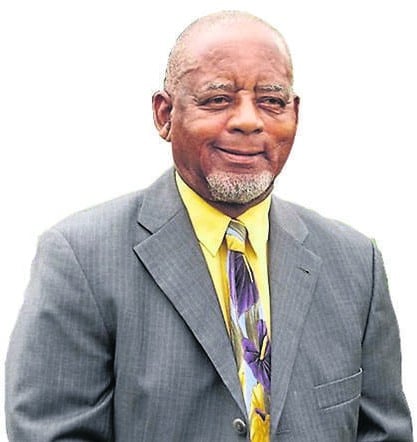 I do not feel sorry that this accident happened. My priority, when I got back to the UK, was to ask my wife to obtain a Bible for me; that was the turning point of my life. Then I asked Elizabeth to take me to a church and she took me to the Metropolitan Tabernacle in London.
Salvation
The first day was memorable, because it was my first day at the church and, since that first service, I never looked back. I listened to the teaching of the pastor, Dr Peter Masters and realised that God had saved my life for a purpose. I repented of my sins and gave my life over to the Lord Jesus Christ. Now I don't need to drink to enjoy myself! The wonderful thing about being a believer is that I now have more contentment and joy than ever before.
Dr Masters baptised me as soon as I was well enough, and Elizabeth and I worshipped at the Metropolitan Tabernacle from 1997 until we left London in 2008, to come to Wiltshire where we now live. I thank God that some members of my family in South Africa have now also come to know the Lord.
Award
On Freedom Day in April 2012, I was invited to return to South Africa for the 100-year anniversary celebrations of the African National Congress. I was awarded the Order of Ikhamanga in gold, by the presidency of South Africa.
Its citation states: 'Awarded for his exceptional contributions to and achievement in the field of music and the arts and the struggle for a free and democratic South Africa. He is honoured for his outstanding achievement in the genre of jazz music, being an excellent ambassador of South African music and contributing to the development of music in South Africa and the African diaspora'.
I am very pleased to have been recognised in this way, but even more thankful for what the Lord has done in my life, giving me true freedom in Christ. I still love my country, South Africa, and would pray that many of my people would come to know the same freedom that I have found in the Lord Jesus Christ.