Churches, Christian organisations and businesses can reach and grow their audience by advertising with Evangelical Times in print and online. You can also reach thousands of Christians by placing an advert in our popular weekly email newsletters.
Discounts for combined hardcopy and website advertising
Reach a wider audience with a combined campaign. We offer a 50% discount on digital advertising when taken in combination will full-price hardcopy display advertising.
In print
Classified adverts
Up to 20 words (min. charge) £11.50 (£13.80 VAT inc.)
Each additional word 56p (67p VAT inc.)
Box number £5.00 (£6.00 VAT inc)
Discount: 10% discount on booking a block of six or more entries within a year. Ask us about this discount when you contact ET about your advert.
Adverts from charities will not normally be liable for VAT. Most other advertisers should use the VAT inc. figures.
Contact our office to place a classified order.
☑️
All classified advertisements must reach us by the first of the month preceding the issue for which they are submitted.
Display Adverts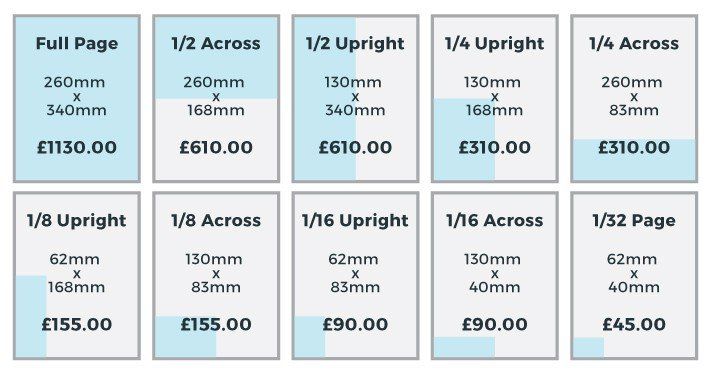 Rates for standard sizes are illustrated above under the heading "OTHER ADVERTS". All other sizes are £11.50 per single column centimetre. The rates quoted do not include VAT. Charities (whether Registered or not) are not liable to pay VAT on advertisements, so advertisers should make it clear whether or not they are charities. If you do not notify us of charitable status, we have to add VAT to the rates given on this card.
Print artwork
Free artwork preparation is provided for all hardcopy display advertisements of a 1/4 page or less. Over 1/4 page, a surcharge of 10% will be added to all advertisements not sent in electronic format.
Series Discounts
Applies only to bookings made at one time in any twelve month period:
Four bookings: 7.5%
Eight bookings: 15%
Twelve bookings: 20%
Discount for Registered or Excepted charities: 5%
Contact our office to place a display advert.
☑️
Solus Display charged at additional 15%
Inserts in the Evangelical Times newspaper
Inserts are charged at £95 per 1,000 (up to max. weight of 10 grams)
Contact our office to find out more about placing an insert in the Evangelical Times.
Digital
Email Newsletter advertising
ET's  popular weekly email newsletter is sent to more than 2,000 recipients.
Email adverts are charged at £100 for a block of four weeks. These can be text only, text with a small image or an image only. For a single image please provide and image 600px wide with a maximum height of 300px.
Digital artwork
We are happy to use images that you provide as long as they are of the correct dimensions and are 72dpi. Or we can prepare artwork at a cost of £50. For first-time advertisers we will waive this charge.
Contact our office to purchase a newsletter advert placement.
Website advertising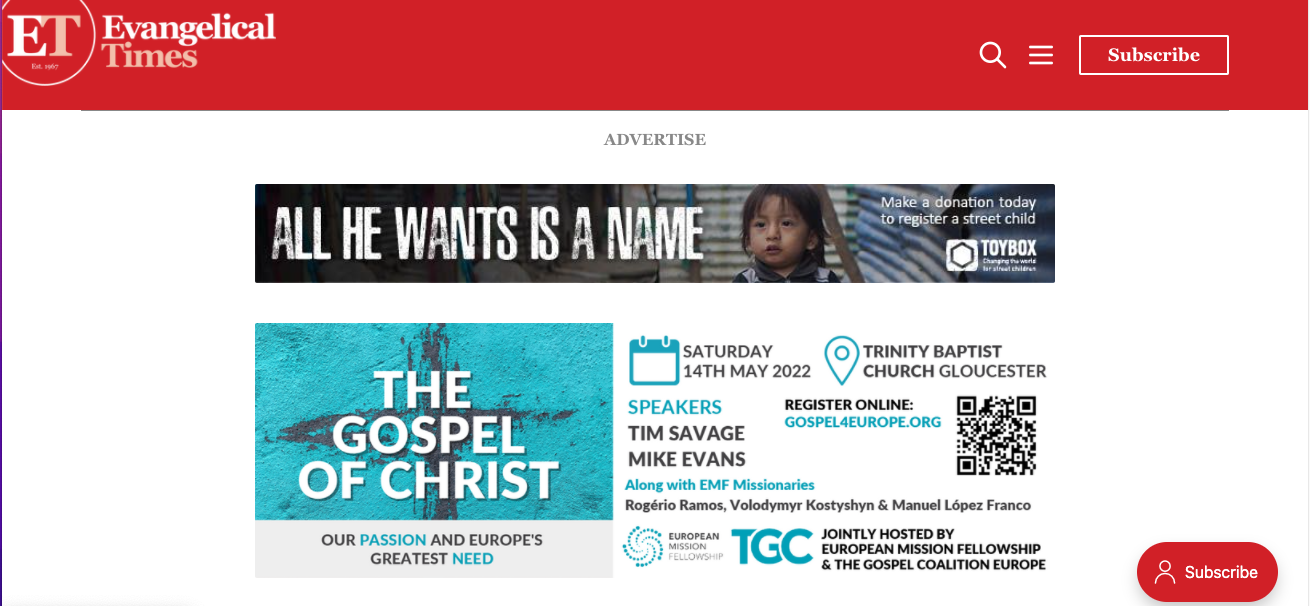 Please supply image files in jpg or png format along with the URL of the page you want your advert to link to.
Evangelical Times homepage large footer banner (600px x 300px)
Evangelical Times homepage and posts standard footer banner  (600px x 90px)
Rates
Website adverts are charged at £75 per month
Contact our office to purchase website advertising.