From June 14-21, a team of local, dedicated and energetic Christians held a week-long camp in western Ukraine for 75 children, aged between 7 and 13.
Set within a large wood, with ponds, playing fields and several million mosquitoes, the camp was located at an ex-communist 'pioneer camp' that was bought by a Christian about eight years ago.
For many of these children, this was the first experience of 'camp life' and exposure to Bible teaching and the message of the Lord Jesus Christ.
English and Polish are commonly taught in Ukraine to primary children, and the camp came into being as an opportunity to improve their language abilities in an exciting and friendly setting.
Conversational English lessons were headed by Christians from Poland, USA and England. These 'native' speakers helped to organise games, sports, crafts and daily Bible lessons. They also introduced new skills in rugby and American football. As ever, water games were popular, giving youngsters an opportunity to splash the leaders — which is always good fun!
Camp 'Around the World' had daily themes, such as Disneyland, Maori, Hollywood, Ukraine and the UK Royalty. During 'free time', the seven teams were busy preparing for the evening concerts. These were excellent and included talent shows, with singing, film making, contortionists, acrobatics and dancing.
Encouragements
Some of these were outstanding. For example, a 12-year-old boy and girl gave a stunning dance routine that was even better than Strictly!
As with all camps, we finished with a bonfire and BBQ reaching well into the early morning. Even the youngest seemed to have stamina well beyond the worn out leaders!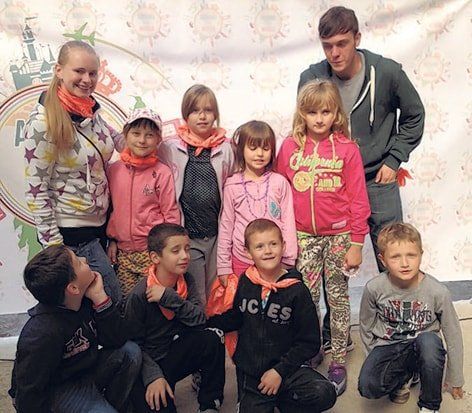 The camp was a success in several ways, not just because it gave opportunities for children from varied backgrounds to learn together, but also for mixing Christian and non-Christian children.
One surprising outcome was that several children came to church services on the Sunday after camp, at the spontaneous invitation of young believers. Even sceptical parents asked for the camp to be extended; or, at least, for another camp next year.
The plan is to repeat the camp and widen the age range to include teenagers, by organising an additional camp. The facilities and standard of the venue are very basic and need considerable improvement. Plans to do this are underway, but there are limitations in a country with low income and high unemployment.
Sponsorship for equipment and children's fees are always welcome, but the greater need (and benefit) would be to send a work party next year and to upgrade the venue by doing general maintenance, painting, carpentry and grass mowing.
If any church or individuals want to get involved, or you want to know more, please contact Graham Hilton (grahamhilton 2004@icloud.com or 07769 935 869). We are available to give presentations and explain more fully the gospel opportunity and real needs of this troubled country.
Graham Hilton
On behalf of Central Eurasian Partners (
http://cepartners.wordpress.com
)