Betrothal
In biblical times, betrothal was an initiative taken by the man. The Rabbis spoke of it as 'man seeking in woman that which he had lost', namely, the rib or 'side' taken from Adam to form the woman. Quaint though this may seem, it is a picture. For Christ also came to seek and to save that which was lost.
As Eve was specially created for Adam, so the church is Christ's new creation, formed to be betrothed to Christ. As Eve had to be formed from Adam, so the spiritual creation had to be formed from Christ, the second Adam.
Partakers of Christ
The church, therefore, takes on Christ's nature in the new man; we become partakers of the divine nature (2 Peter 1:4) and receive the mind and Spirit of Christ. Christ is 'made unto us' all that we require; wisdom, righteousness, sanctification and redemption (1 Corinthians 1:30).
All is changed, all has become new. The people of Christ are renewed after the image of Christ and made conformable to that image (Romans 8:29). This, from eternity, was the predestined purpose of the marriage arrangement.
Christ, therefore, is all and in all (Colossians 3:11). In this new creation Christ is the 'Head, from which all the body by joints and bands having nourishment ministered, and knit together, increaseth with the increase of God' (Colossians 2:19). We are indeed bone of Christ's bone and flesh of his flesh (cf. Genesis 2:23).
Dowry
Marriage required a dowry from the groom to the bride's father. The dowry paid by Christ has special reference to the Father, for Christ offered himself, a sacrifice to satisfy the Father's divine justice and to reconcile us to him.
Sometimes part of the dowry would be given to the bride as a gift. Furthermore, the dowry was sometimes in the form of services rendered (see Genesis 29:20).By analogy, the dowry paid by Christ includes priceless benefits.
All the sin of the church, with its guilt, power and penalty, have been dealt with. By his one offering for sin for ever, he has perfected his church. We have been clothed with the robe of Christ's spotless righteousness. He lived a life of perfect righteousness, that the merits of that life might be ours. There could be no greater endowment than that.
In the words of the prophet: 'When I … looked upon thee, behold, thy time was the time of love; and I spread my skirt over thee, and covered thy nakedness … I washed thee with water … I clothed thee also with broidered work, and … girded thee about with fine linen, and I covered thee with silk. I decked thee also with ornaments' (Ezekiel 16:8-11).
But beyond all this, Christ himself is the dowry given to us, for he himself comes to dwell with us and in us.
Covenant
Once the dowry price was paid (a once-for- all price), the betrothed couple looked forward to their future wedding and full union. Having been 'bought', wives were regarded by law as the husband's property.
While this may not be our view today, it serves as a picture of Christ and his church. 'Do you not know that ye are not your own?' asks the apostle: 'For ye are bought with a price' (1 Corinthians 6:19-20). Believers, individually and corporately, belong to their faithful Saviour, the Lord Jesus Christ.
Betrothal was essentially a covenant of marriage. The families of bride and groom met with other witnesses. The groom gave the bride a ring of gold, some article of value or just a document in which he promised to marry the girl.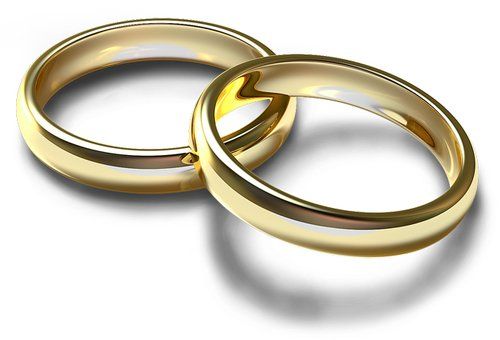 Then he would say: 'See by this ring (or token) you are set aside for me according to the law of Moses and Israel'. The terms of marriage were accepted in the presence of the witnesses, and God's blessing was pronounced upon it. Betrothal was nothing like our modern tradition of engagement. From that day the groom and bride were legally bound. It was the point of no return; the sealing of the future union.
The seal
The token given to the church is the deposit and guarantee of the Holy Spirit 'who was given to us' (Romans 5:5). It is 'the earnest of our inheritance until the redemption of the purchased possession, unto the praise of his glory' (Ephesians 1:14).
The Greek word translated 'earnest' is arrabon. In general usage, this referred to a deposit paid on the purchase of a wife (or even an animal). In modern Greek, arrabon survives as the word for an engagement ring.
The gift of the Spirit is also referred to as a sealing. God 'hath also sealed us, and given the earnest of the Spirit in our hearts' (2 Corinthians 1:22). A seal signifies authentication and ownership (Revelation 7:3-4). Paul tells us that 'the foundation of God standeth sure, having this seal. The Lord knoweth them that are his' (2 Timothy 2:19). The church implores Christ: 'Set me as a seal upon thine heart, as a seal upon thine arm' (Song of Songs 8:6).
We have the Holy Spirit of promise, and that promise was made by Christ. The Spirit is no less than the guarantee and first instalment of our inheritance, the pledge of glory to come. We are already being transformed by the Spirit from one degree of glory to another (2 Corinthians 3:18).
One heart and one way
He is also the Spirit of adoption, assuring us of our interest in Christ. His indwelling secures our adoption into God's family as the bride of Christ, with full rights of the son-heir. We receive the 'firstfruits of the Spirit' (Romans 8:23; see also Galatians 5:22 and 2 Peter 1:5-11).
These things constitute a small fraction of the future riches to be received by those who have been redeemed as God's own possession. The groom's vows find a correspondence in the vows made by Christ to the church: 'I will betroth thee unto me for ever; yea, I will betroth thee unto me in righteousness, and in judgment, and in lovingkindness, and in mercies. I will even betroth thee unto me in faithfulness: and thou shalt know the Lord' (Hosea 2:19-20).
And again: 'They shall be my people, and I will be their God: I will give them one heart, and one way, that they may fear me for ever … And I will make an everlasting covenant with them, that I will not turn away from them, to do them good; but I will put my fear in their hearts, that they shall not depart from me' (Jeremiah 32:38-40).
Stability
Perhaps we do not recognise the full significance of these vows. The stability of the family was founded on the absolute authority of the father; he could divorce his wife without any explanation with just a spoken word.
In contrast, the Israelite woman could not divorce her husband, because he owned her. Again, such inequality would be unacceptable today, but it still provides a graphic spiritual picture.
There is no question whatever of apostasy or of 'jumping out' of Christ's hand for the elect. In the passages cited above, God promises that there will be no adultery, since we will not depart from him.
Everything rests and depends upon the bridegroom. He alone possesses the power to divorce. Thus God's promise never to cast off his chosen provides real meaning and comfort for believers.
Andrew Murray expresses these truths succinctly: 'If this love be indeed so divine, such an intense and burning passion, then surely I can depend on it to keep me and to hold me fast. Then surely all my unworthiness and feebleness can be no hindrance. If this love be indeed so divine, with infinite power at its command, I surely have a right to trust that it is stronger than my weakness; and that with its almighty arm it will clasp me to its bosom, and suffer me to go out no more'.
Free consent
Since marriage in ancient Israel was a covenant initiated by only one party, the husband, there were no vows made by the bride. She did, however, have to give her own free consent during the betrothal ceremony. Otherwise the union was invalid.
We see this in the story of Rebecca, who freely consented to become the wife of a man she had never seen (Genesis 24). Yet this passage reminds us that the messenger who came to find a bride for his master's son presented her with gifts. Before he had spoken a word concerning marriage to Isaac, he gave her a nose ring and bracelets.
We discern a dim picture here of the way the Holy Spirit opens the hearts of dead sinners, and administers the gifts of repentance and faith. It is by these that the sinner is enabled to believe and respond by embracing Christ as he is freely offered in the gospel.