On 8 September Christchurch Market Harborough (CMH) joined with friends and family for a welcome service for Andrew, Ruth and Reuben McKenna, and to thank God for the
provision of Andrew as CMH's first full-time pastor.
The service, led by John Stevens, a pastor at the church and National Director of FIEC, was held at the Robert Smyth Academy, where CMH meets on Sunday mornings.
Mr Stevens thanked everyone for coming, including a large group from Andrew's previous church, Minster Christian
Centre, Cardiff (MCC). He then gave a brief history of CMH, which had grown out of a home group in Harborough.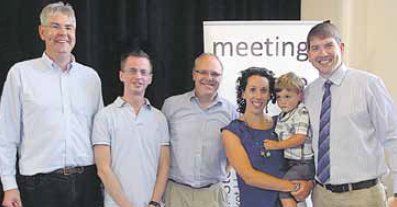 Pic (l to r): John Stevens, David Barry, Richard Underwood, Ruth, Reuben and Andrew McKenna
CMH began meeting as a church in January 2011. Mr Stevens said, 'We are thankful to God for his faithfulness to us'. Over the past 20 months the church has grown and was now in a position to appoint a full-time pastor to join the pastoral team.
Rita Whittall, a founding member, read from Titus 1:1-9, before Alex Collins, pastor at MCC, gave God's message. He began by saying that it had been a wrench to send the McKennas to Harborough, but that they did so 'for the sake of the gospel'.
Mr Collins compared Mr McKenna's role at CMH with Titus' role in Crete. He spoke about the transforming work of the gospel in the church and community. Church leadership is plural, local and functional.
Transforming gospel
Referring to Titus, Mr Collins exhorted Mr McKenna to lead by example and by exposition. It was the faithful preaching of God's Word that made a difference in people's lives.
The pastor's ministry should also change the wider community. Jesus' death and resurrection transforms people's lives. Our prayer is that people in Market Harborough will see the gospel presented so attractively they can't live without it.
David Barry, another member of the pastoral team at CMH, spoke about how the church
had sensed God's leading. He outlined the key duties of an elder at Christchurch.
Mr McKenna solemnly affirmed he would fulfil these duties faithfully and the membership promised to support and pray for Andrew, Ruth and Reuben. Richard Underwood then prayed for the McKennas, remembering that 'unless the Lord build the house we labour in vain that build it'.
Mr McKenna thanked all who have prayed for his family and encouraged them to continue to do so. His prayer is that the good news of Jesus will spread out from the church to the town and then further afield. After the service, everyone enjoyed tea and fellowship.
Ruth Hughes