Pray for all the efforts that are being made to point to the coming of Jesus Christ as the Saviour of the world.
Pray for calendars, leaflets and tracts that will be given out.
Pray for special Christmas evangelistic services.
Pray that the words of the Christmas carols will cause people to think deeply about Christ.
Pray that people might be struck by the words that are read out from the Bible.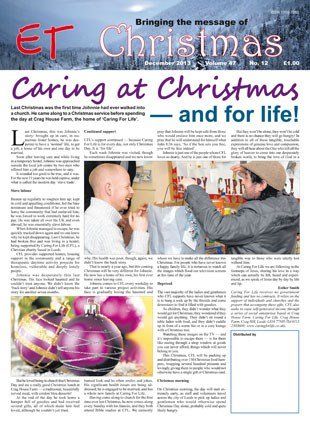 To say that Matt Collis had a difficult childhood is an understatement. But he found a way to deal with the cruelty and sadness.
I went to church frequently; I read the Bible a lot and never doubted that it was true. I knew all the answers and could talk the talk. Yes, I lived a good, honest life, a very good honest life! But…
On a hot afternoon on 22 July 2013, Prince George entered our world in St Mary's Hospital, Paddington, in London. He immediately became third in line to the throne of Great Britain and Northern Ireland, as well as the Commonwealth. His destiny is to reign.
Someone I used to work with once said to me, 'I find it hard to believe that you, a reasonably intelligent human being (!), can take God so seriously or believe that the Bible is true!'
Jesus took it for granted that his disciples would share with their offspring: 'You … know how to give good gifts to your children', he once declared.
Why putting the Christmas pudding together reminds Simoney Kyriakou of God's perfect timing. It has taken nearly 20 years for me to adapt a Christmas pudding recipe to match the tastes of my family!