In April 2016, at the two African Pastors Conferences (APC) in Nigeria — one in Abuja, and the other in Kaduna State — we had a very valuable time.
It was extremely hot, 35oC and above, with little aircon. But it was a great blessing to reach eager pastors willing to preach the biblical gospel and bring the theology of creation to these Christian leaders.
Increasingly, the issue of creation has an effect on African congregations, as more young people have contact, through smart phones and social media, with erroneous Western ideas.
Irving Steggles, pastor of Birchleigh Baptist Church, Kempton Park, South Africa, though fighting pain in his right hand side, spoke powerfully on the 'New creation', while I spoke on 'Creation', both biblically and from the evidence of science.
'Gap theory'
It was evident that, though theistic evolution has increasingly affected pastors in Nigeria, by far the most prevalent error remains the 'gap theory': the idea that Satan fell between verse 1 and verse 2 of Genesis 1 and that an earlier creation was marred by him then. This is held and taught by many Christian leaders in Africa.
This error is, of course, answered by Genesis 1:31, which makes it plain that there was nothing out of place in all creation until man fell in Genesis 3, and that death and corruption came after the Fall.
It was good to have Rebecca Masekela, from South Africa, with us, to look after the Christian books. These books added greatly to the value of the conferences. There was substantial effort and expense in getting them to Nigeria, with further taxes for one of the shipments when it arrived, as well as the cost of buying and shipping them from the UK.
The books were heavily subsidised and we were very grateful to Day One, Evangelical Press and a number of other booksellers for supporting this important African ministry. At the same time as we were in Nigeria, there was another APC conference going on in Zimbabwe; and, in a year, there are as many as 50 APC conferences taking place (if you would like to support these, do contact Irving Steggles at isteggles@gmail.com).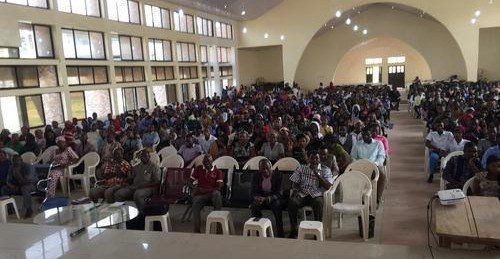 Seminaries and churches
Key to the Nigerian side of the work were Pastor Shuaibu Zarmai, principal of the Theological College in Karu, Abuja, and Professor Sunday Agang, principal of the Evangelical Church of West Africa (ECWA) Theological Seminary in Kagoro, who welcomed us to their ECWA institutions.
Some of you will know Pastor Adamu Maga of Jos, who came to both conferences and acted as key man on the ground, organising details with both principals. In Abuja it was a delight to have Pastor Femi Sonuga-Oye and three of his leading men join us from Sovereign Grace Bible Church in Lagos.
They are involved with a systematic, thoroughly grounded, expository Bible ministry in the capital of Nigeria. It was one of the highlights of the time there to meet these brothers, who had travelled up specifically for the conference.
It is significant at Bingham University that not all the staff of that Christian university were of the same view concerning origins. This confirmed what I had suspected, that increasingly in conservative Africa, evolutionary error is getting into academic institutions.
When I last visited Nigeria in 2007, I spent time with the leaders of ECWA concerning the plans to set up Bingham University, in Abuja (which now has 3,000 students coming through). I warned that it was important that they used staff committed to biblical creation, but, though some staff are, this warning has not been fully heeded.
Nevertheless, there are some who are concerned to give faithful biblical teaching on origins. The chaplain, Joseph Dyaji, who had been instrumental in my coming, gave me further opportunity with a small group of students and staff. I was able to speak to and urge them to keep to a faithful curriculum based on biblical creation.

Kagoro
In Kagoro we had 80 listening at the meetings, with 60 pastors and leaders registered. This was my third visit to Kagoro, which is situated on the edge of scenic hills. The seminary there uses buildings, first placed by SIM back in the 1930s and which ECWA took over when the indigenous church carried on the work. This is a strategic seminary that places many pastors across Nigeria after training.
Again, there was a great thirst for the books and DVDs and many went away with armfuls of purchased materials, as well as the free books given at the end of the second day of the conference.
Question times were always profitable and showed, as in Abuja, the great confusion that has come in from the West, both on creation but also on the gospel and pastoral matters.
Thank you so much for your prayers and support. Many of you have given financially for the support of the APCin Nigeria — the first time these conferences have taken place in that country. So Pastor Irving and all the APC team were grateful for this.
The Lord did help us, despite Irving not being too well. There may well be plans to do this again, possibly involving the Lagos church. It is a big undertaking, so needs careful planning.
Andy McIntosh is retired from the University of Leeds and is now visiting Research Professor of Thermodynamics (at Leeds) and an adjunct professor at the University of Mississippi. He is author of Genesis for today (Day One) and Genesis 1 to 11: a verse by verse commentary (Day One).