The uprising in Egypt stunned the world, as President Mubarak stepped aside in 2011. The once invincible leader of the Arab world's most populous nation was later seen in a courtroom on a stretcher behind bars.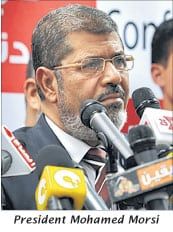 With elections, Mr Morsi was ushered into the presidential palace. He was steeped in the Muslim Brotherhood, which was founded in Egypt in 1928. Years of oppression forced the Brotherhood to meet in secret as many of its members were imprisoned. Coming out into the open, with one of their own in the presidential palace, their dreams have come true.
While Egyptian Christians were positive about the revolution, joining with the street protests to oust the former regime, they have suffered in the aftermath. Although they were hoping for a different outcome from the demonstrations, they continue to pray for their country and honour families who have lost loved ones.
As with their Muslim co-patriates, Egyptian Christians have struggled with the lack of police presence and the general lack of law and order. The police that are around cannot help anyone much, even Muslims.
Pressures
According to Egyptian Christians, the church is feeling more and more pressure. Those seeking to cause trouble do not differentiate between the evangelical Protestant communities and the ancient congregations that trace their roots back to Mark, the writer of the second Gospel.
Muslims are kidnapping Christian women, children and youth. Sometimes the kidnappers demand a ransom, while, at other times, they force their captives to convert to Islam. Without law and order in the wider society, it is difficult for the Christians to obtain justice and the return of their loved ones.
One Egyptian Christian observes that the revolution has opened the minds and hearts of Muslims to discuss and accept other faiths and beliefs.
He asks UK Christians to pray for his country: first, for the growth of the church and for the emboldening of Christians to share their faith; second, with the breakdown of the order of law, pray that Egyptian Christians would open their doors to new believers and not reject believers emerging from Islam, due to fear.
This Egyptian Christian envisions further trouble for his country. He says that Egypt 'will go through difficult times' in the coming years, and they will 'suffer a lot'.
Christine McLaren
Arab World Ministries