On Monday 17 June 2013, in Uganda, Rev. George Hutchinson died following a tragic car accident. Fellow American, Herb Guthrie, and a Ugandan pastor also died.
George and Herb were in Uganda on a preaching and teaching tour with Church Planting International (CPI), something they had done many times before.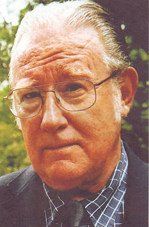 George was the chief executive of CPI. He began visits to Uganda in 1995. At that time there were only ten Reformed Presbyterian Church congregations; there are now nearly 300. Two thousand people gathered to remember him and the others who died.
George was a frequent visitor to England, having studied in Oxford in the early 1970s. He attended the church where Sidney Norton and S. M. Houghton ministered, and enjoyed the history, countryside and bookshops in Hay-on-Wye.
He had a large theological library, but passed on many books to others. He had written an extensive history of Presbyterianism. During some time in Germany in the 1970s, he was used by God to found an Evangelical School of Theology at Giessen. It is still thriving, with 140 students.
In recent years, he travelled to countries including India, Russia and Germany on behalf of CPI. But it was probably in Uganda where George saw most blessing. The leaders there had wanted him to visit again, which he did despite ill health. He had already survived prostate cancer 16 years ago.
The burial in a family grave took place in Pennsylvania on 25 June, followed by a thanksgiving service near his home, in Gainesville, Georgia, on 6 July.
It was a privilege to hear testimonies of how the Lord had used George to bless so many in various fields, and particularly the impact he had on the lives of each of his sons. Pray for his wife Linda, four sons and grandchildren.
John Lodge