Heath Evangelical Church, Cardiff
Since he graduated from WEST, Mark Fisher has been in trainee posts at Heath Evangelical Church, Cardiff. His ministry has expanded to include twice-weekly open air preaching in Queen Street, Cardiff; and in Newport and Swansea, and elsewhere under the Open-Air Mission banner.
   He regularly speaks in some 18 primary schools in Cardiff. In addition, he assists with the church's ministry to international students and fulfils pastoral duties. He occasionally preaches in the pastor's absence, as well as in a variety of churches elsewhere.
   On Sunday 30 September, Mr Fisher was ordained into the Christian ministry. His new title is Assistant Pastor (Evangelism). He chairs the church's evangelism group and is charged with advising on the evangelistic content of the church's web site and literature and training up others in gospel proclamation.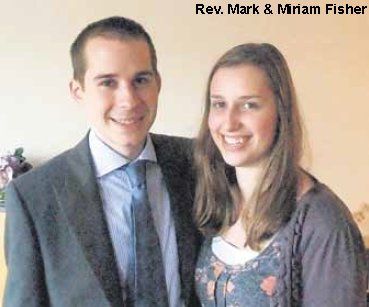 The service was led by Pastor Wyn Hughes. He was joined in the laying on of hands by Rev. Roger Fay (father of Mr Fisher's wife, Miriam) and three of the elders — Keith Batstone, Dr Eryl Davies and Kerry Orchard.
   Mr Hughes' sermon was admirably suited to the occasion. He preached from 2 Kings 2:14 concerning Elisha's question, 'Where is the Lord God of Elijah?'
   He first posed the question, 'Where are the Elijahs of God?' He noted that Elijah was faithful in a time of great apostasy. The prophet was a man of prayer and prevailed with God. Elijah was bold; he feared God, not man.
   In answer to the original question, God was and is, of course, where he has always been. But what Elisha desired was evidence of his manifest presence and power, in the here and now. The need for Mr Fisher and each one of us today is exactly the same. May the Lord bless richly the future ministry of Mr and Mrs Fisher.
Kerry Orchard