Our family have lived in Nicaragua for 16 years. We are involved in mission ministry through Christian education. We find this to be difficult, slow, long-term and unconventional, but far-reaching and effective.
My wife is a Korean missionary; I am a British missionary; our son is a Costa Rican MK and our daughter a Welsh MK. Being a multicultural family helps in a cross-cultural ministry. But the work and its results are ultimately not ours, but all of God.
We pioneered the first Christian school here in 2007 by God's grace and power. We began with a pre-school and then added one grade each year. We were able to pioneer a second Christian school in 2016.
We have found that high quality, Christian, bilingual education is favoured by parents, and is an acceptable way of sharing the gospel in Nicaragua (see 'God's miracle school' in ET, November 2011). God sends us the man-power each year, but we continue to need teachers, volunteers and helpers, including English-speakers from the UK, USA and Korea, and Nicaraguan nationals.
Exceptions
As a ministry team, we have seen God provide and intervene in many difficult situations, helping in ways that can only be explained as God's provision of wisdom and resources.
We have experienced the Lord working in the lives and families of our national co-workers. Many have grown in confidence and faith, as they see God provide stability through employment, in a country where there is so much unemployment.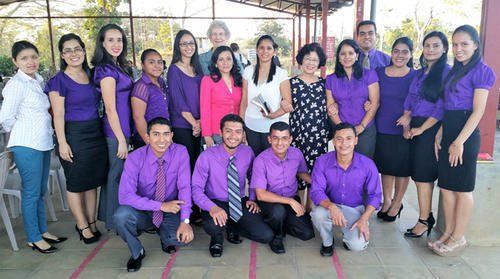 In our years of mission work, we have found the country wide open to gospel ministry. I believe, though, that things are getting more difficult and missionaries and evangelicals are being targeted and oppressed in different ways. This means the opportunities for Christian initiatives must be taken while they still exist.
Perceptions
Perceptions of Nicaragua in the outside world are often negative and politically biased. Nicaragua is said to be the second poorest nation in the western hemisphere, but it has a wealth of culture and untapped natural resources and is slowly advancing.
It is a nation of over 6 million people (with 1 million Nicaraguans living in neighbouring Costa Rica). It has a predominantly high population of young people, vast natural beauty and high mineral reserves.
The political situation is turbulent and complicated. Venezuela has been instrumental in supporting Nicaragua's socio-economic vision; Russia and China have challenged American dominance and been visibly active over recent years, both regionally and nationally.
Deceptions
It is easy to be deceived by appearances in Nicaragua. One of the country's most complicated aspects is its political system and situation. An elderly man once said to me, with a smile on his face, 'The only orderly thing in this country is the disorder!' This can come across as a disaster to the outsider looking in. Politics is even seen jokingly as a contact sport!
During our time here, we have experienced the failure of post-revolution democracy. But now the nation is seeing more progress than ever before, under its present socialist political system. Nicaragua is still relatively safe with one of the strongest police forces in Central America, though gang warfare and dangerous and powerful neighbours continue to challenge this.
The infrastructure is advancing, and the poor are being noticed and cared for, though not always unconditionally. The political system is delivering results and winning over youth, albeit with a strong agenda.
It is difficult to get complete unanimity in society. Deep down, many still feel powerless and oppressed by injustice and the ghosts of history. But there is a positive national unity and pride. This works out in wonderful ways on a day-to-day basis. Nicaraguans are generally a happy, smiling people.
Misconceptions
Misconceptions about biblical faith and ministry are often dominant in Nicaragua. The cost of discipleship is minimised and the Christian faith seen as an emotional experience. Mere religiosity had a strong hold in many evangelical churches in the past, with legalism popular and people preferring not to 'work out their own salvation'. Syncretism has been another obstacle to personal faith in Jesus Christ.
Yet, as we challenge and work through these misconceptions, we see God at work in Nicaraguans, and their strongly positive characteristics when fully committed to faith in Jesus Christ. They are a friendly people, committed to helping each other in need. Friendship proves a powerful vehicle for Christian ministry.
Last week, I was able to visit a sick person with a group of men from church. The man was bedridden, recovering from a back operation. Fifteen men went and prayed and shared from the Bible with him. They helped the man stand and exercise his muscles, and a collection was made for the costs of his next hospital visit.
When we left, he was sitting on his bed, radiant and thankful for the team's encouragement, verbally testifying and confirming with thankfulness his personal faith in Jesus Christ, that he first made some months prior (the rest of his family still profess a traditional religion). This was Nicaraguan visitation like I had never seen before!
In the area of Christian education, I interview all parents, talk to them often about our personal faith, and then about their children and why they want to choose a Christian education. The number one comment that comes across is that they are convinced the teachers love and care for the children; they are strongly impacted by the ethos of the school.
Interventions
There are many misconceptions about mission ministry that can lead to a high drop-out rate. Missionaries need vision, endurance and a strong sense of calling and leading from the Holy Spirit.
Mission work is frustrating, lonely and often confusing, I have found studying the history of mission in other countries helpful, but new mission trends need to be thought through. There are no instant solutions, even though the world is changing fast.
What does the Lord require of you? What you can do to help? In mission ministry work, all can pray; some can give; some can go; and some can help send others.
The big mission and ministry issue in Latin America, including Nicaragua, is that of leadership. The church in Nicaragua has grown fast, but needs strong, faithful leaders. We have the promise of God that Jesus will build his church, and in Nicaragua 'the gates of hell' are big and strong.
In general, Nicaraguan Christian leadership is not very effective or biblical. So please pray that the church will reveal servant leadership to the nation.
Family breakdown is rampant, but Christian families are slowly starting to change this. Christian education is an effective way of influencing the next generation for good, and children are also influencing the previous generation as they return home from school with the hope of the gospel.
We have already seen encouragements, but long to see more. The results are slow and long-term — not easy, in an instant world where we like to see instant results!
Observations
Nicaraguan people are friendly, welcoming and extremely resilient. They have endured difficult natural and historical situations. Nicaraguan Christians are often fearless and bold in their witness for God. Pray they will grow in assurance of their standing in Jesus Christ.
Nicaragua has an emerging church, with members able to serve God as missionaries anywhere in the world because of their resourcefulness.
Barry Davis