I was brought up in a Catholic home and I am grateful that my parents taught me about God, his law and the judgement to come. However, they did not teach me the way of salvation. I heard the Evangelical message for the first time when I was 14 years old. Some Irish tourists had converted my brother to Protestantism. Apparently the first thing he did was to come home and inform me that we are saved by faith in Christ and not by the merit of our good works!
To my mind this teaching was clearly wrong and dangerous. Wrong, because St James says that faith without works is dead. And dangerous because it encourages careless living, since a person is not saved by works. I became interested in studying the Bible for myself, not least to rescue my brother from this 'heresy'.
To my surprise I found that the Bible's concern is to distinguish between true faith and its counterfeit: 'What doth it profit, my brethren, though a man say he hath faith, and have not works? Can faith save him?' (James 2:14). Such dead 'faith' is impotent to save. Given that genuine faith must be fruitful, the central question remained unanswered: 'Is a person saved by true faith alone? Or is he saved by faith plus the merit of his own good works?'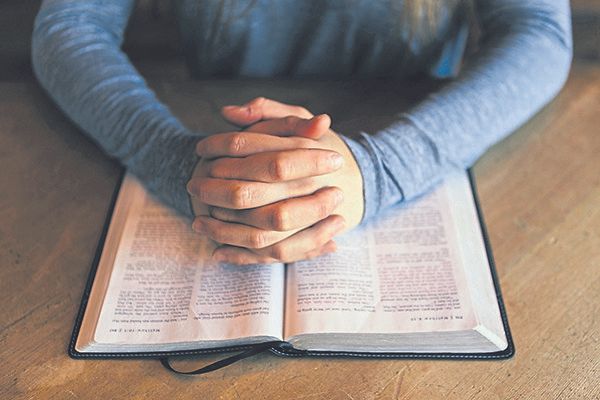 Through faith
I searched the Scriptures for months, especially John's Gospel and Paul's Epistles to the Romans, Galatians and Ephesians. The answer of the Bible was clear and surprising: 'For by grace are ye saved through faith; and that not of yourselves: it is the gift of God: not of works, lest any man should boast. For we are his workmanship, created in Christ Jesus unto good works, which God hath before ordained that we should walk in them' (Ephesians 2:8-10).
Saved through faith … not of works! It is amazing! The same Bible that emphasises holy living and good works also states that salvation is not dependent on personal good works. The Christian trusts completely in the Lord Jesus Christ. The payment for sin is the precious blood Jesus shed on Calvary's cross, and not religious works, penance and sufferings in purgatory.
One question remained — why should I perform any good works at all? Again, Ephesians 2:8-10 clarified the issue. After stating that we are not saved by works, it says we are saved for good works. Good works are the result not the cause of salvation.
So, by God's grace, I trusted in the Lord Jesus Christ, realising that I was not to depend any more for salvation on myself, the church or any other person, including the Virgin Mary. The immediate outcome was the loss of my best friend: the Catholic priest told him to disregard me!
Website
Today I am concerned for Roman Catholics who, as I used to be, are in their sins but who think that somehow they will make it in the end. The Bible warns them that their 'faith' is useless to save them from hell. On the other hand, I am also concerned about devout Catholics who are afraid of God's judgement and do their best to merit his forgiveness and grace by their own efforts.
So I have built a website entitled 'Just for Catholics' (http://www.justforcatholics.org) to explain the gospel to lay Roman Catholic people. Over two thousand people have visited it in the past few months, and about a hundred have contacted me by e-mail to ask questions, discuss or dispute.
Here are some examples from the letters that I received just recently. A young Christian is being influenced by his peers to look into the Roman Catholic religion. I tried to show him that we are complete in Christ and that he will find no water in the dry wells of Catholicism.
A woman asked me why the Bible doesn't say much about Mary. I answered that the Bible is a book about another person, Christ, who is chosen of God to be the only Saviour, Mediator and Priest. A devout Catholic man informed me that if I follow the doctrines of Luther, I'm following the doctrines of the devil! But I know I have the gospel of God's grace to proclaim to any person around the world, and especially in Malta, willing to listen.