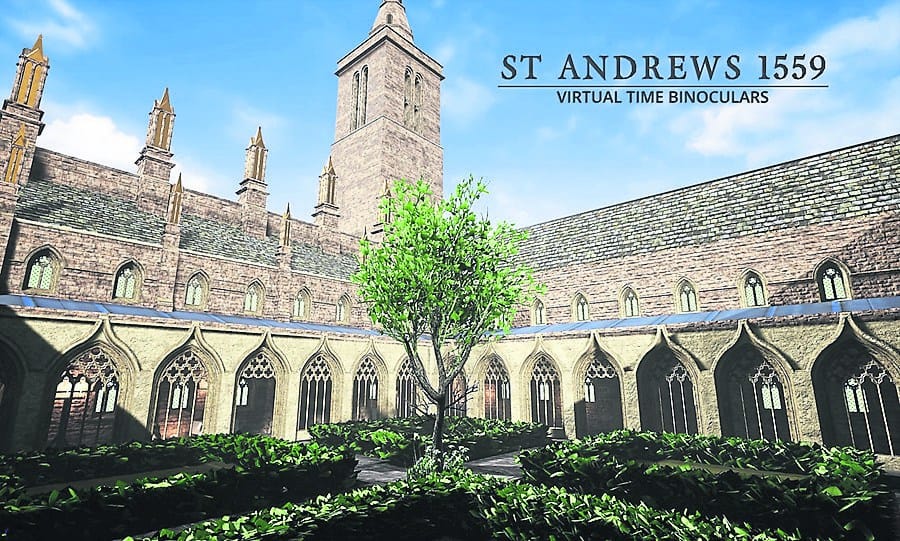 Historic buildings at the heart of St Andrews, Scotland, have been digitally reconstructed to reveal how they looked nearly 500 years ago, before the Reformation changed the face of the town forever.
St Salvator's quad and chapel, at the heart of the University of St Andrews, can now be seen in a virtual recreation, which reveals how these historic buildings appeared before the religious changes of the Reformation. The reconstruction, created by historians and computer scientists at the university, drew from images and manuscripts in the university's special collections department.
This is the first phase of a wider project to digitally recreate the entire burgh of St Andrews as it appeared in 1559, just before the citizens of the town officially adopted Protestantism and set about transforming the community's Catholic religious foundations.
The St Andrews 1559 project is led by the university's Professor Michael Brown, of the school of history, and Dr Alan Miller of the school of computer science.
The digital model of St Salvator's was created by Sarah Kennedy of the school of computer science, with historical advice from Dr Bess Rhodes of the schools of history and computer science and with help from students.
Dr Rhodes said: 'We selected St Salvator's as the place to begin our reconstruction as a major landmark in the modern university and the town. It was of course also the scene of one of the most horrific events of the Scottish Reformation: the burning of Patrick Hamilton for his Lutheran beliefs'.
The reconstruction can be viewed via a taster video online at: https://vimeo.com/240629953