The following report was sent by Donald J. Morrison, a Free Church (Continuing) evangelist based in Inverness, following a recent 10-day missionary trip to Moldova in Eastern Europe.
In the midst of continuing political and social trouble, Moldova remains a fertile mission field, where evangelical churches, albeit much in need of Reformed teaching, are continuing to grow and multiply.
The main opposition to evangelical work comes from the Orthodox Church, which maintains strong ties with local government and strives to maintain its religious monopoly.
Evangelical church planters often find this out to their cost, especially in traditionally Orthodox villages where they are can be hounded and persecuted by priests, whose religion and churches are dead.
Building and registering new churches can be complicated, although the 'politically correct' hurdles are not what they once were. In this nation of great material poverty, there is little doubt that the spiritual wealth of the gospel is bringing hope.
Spiritual refreshment
Although my time there was physically exhausting, it was also spiritually refreshing and encouraging. It was a joy to renew old friendships and make new ones. Although most of these people don't have big purses, like so many have in our prosperous West, they do have big hearts. During my time there, it was deeply humbling to be showered by many tokens of kindness and hospitality from the little they had.
Moldova is on record as being the poorest country in Europe. Yet, what the apostle Paul said about the Christians in Corinth can also be said about believers in this country, 'being sorrowful, yet always rejoicing … as having nothing, and yet processing all things'.
Truly, we have so many things to learn from those, who, despite 'having nothing' in life, yet recognise the hand of God as the great giver of the little they do have and receive.
Cahul, Moldova's third largest city, with a population of around 35,000 souls, is located at the south end of the country, just on the border with Romania. In Cahul and the surrounding villages there are many wineries and many churches, but, sadly, the living water that satisfies the soul is not to be found in any of their wells. Alcohol abuse is widespread and the Moldovan Orthodox Church is no friend of biblical Christianity.
It was a real joy to be engaged in gospel outreach in the city centre during my time there, when some days the temperatures were below freezing! This didn't hinder the large numbers who were buying and selling at the countless market stalls, on the streets.
Gospel literature
People were generally enthusiastic about receiving gospel literature of one kind or another in their own language — either Russian or Romanian. I managed to memorise a few words to speak to passers-by as I gave them materials.
One opening liner was: 'Fie ca Dumnezeu să binecuvânteze adevărul mântuirii prețios sufletul tau nu moarte', which translated from Romanian means, 'May God bless the truth of salvation to your precious never-dying soul'.
It was refreshing to see many of these folk, young and old, willing to enter into conversation and ask more questions about the things of God. At that point, I had to give the reins to my fellow brethren, who were far more fluent than I was in their language!
I saw one man, who belonged to the Orthodox Church, become very angry as we tried to explain to him about his need of Christ.
'I am', he said, 'a better Christian than anyone. My heart is full of love and pity, and I show kindness to everyone. I don't harm anyone. I am good to my church, and my church is good to me. True love in the heart is what makes a person a Christian'.
He then retorted, 'You evangelicals, with all your Bible words, think you are better than anyone else … You don't have to believe all that the Bible says to be a Christian!'
He was a tough cookie to deal with, but at least he listened to the truth which is able to save his soul. A large quantity of literature was given out during the course of the week, with many valuable contacts made by the faithful brethren, who were trumpeting the good news of the gospel during desperately cold weather conditions.
It was a joy to visit two houses of prayer now established in separate locations, one in Leova (a small rural city of around 15,000 people) and the other in Baurci Moldeveni (population 3000), where a new church was built three years ago.
The church leaders in both these areas seek to maintain a faithful Christian ministry and continue to reach out regularly with the gospel to the 'unchurched and unsaved' in their respective communities.
Spiritual hunger
It was a joy to renew Christian fellowship with the dear brethren in both congregations, where I preached on a number of occasions. These folk don't let you go easily when they get a hold of you!
And neither do they tire quickly at church services. They are quite comfortable to sit and listen to the preacher for anything up to three hours — yes, even to a Scotsman preaching through an interpreter!
It was quite evident that they have big appetites for the Word of God and a deep hunger for the truth, that, as one Christian lady said, 'will feed and satisfy our souls'. Many of these people may be materially poor, but they are spiritually rich in faith and grace. They love God's Word.
As I mingled and spoke with these folk after the services and in their own homes, one could better appreciate the words of James 2:5: 'Has not God chosen the poor in the world to be rich in faith and to be heirs of the kingdom that he has promised to those who love him?' Their utter dependence is upon God alone for everything, and they are the richer for it.
While there is a full-time pastor ministering in the church in Leova, those in Baurci are still without an 'under-shepherd', so the congregation there continues to be looked after by the ever zealous Pastor Pavil Staucean.
It is incredible to think that none of these pastors have western advantages, including car, salary, fancy mod-con gadgets or library full of theological books. They can't afford them and neither can their congregations.
What they do often have is a large geographical parish, covering many miles, which places many demands on their limited resources. They work as 'tentmakers' to earn an income, to pay for all their living needs as a family and meet their ministerial expenses.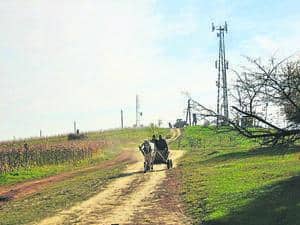 Provisions
As I travelled throughout their parish, I could clearly see how the notoriously uneven roads, full of potholes, present their own gruelling challenges.
For village pastors, preachers and Christian workers, getting from one village to another to carry on ministry is persistently problematic and, in poor weather conditions, almost impossible.
While we thank God for these Houses of Prayer being built, pray that they may be filled with hungry and parched souls searching for the 'bread of life' and 'living water'.
During my trip I visited many poor, needy and disadvantaged families in the three rural villages where I preached. For those struggling to make ends meet, the provision of monetary gifts for the purchase of medicines and medical treatment, food and clothing, was equally divided out, depending on their particular circumstances.
It had previously been arranged to send them 2,500 Trinitarian Bible Society 2015 calendars in Romanian, and the equivalent number in Russian. These were dispatched at the beginning of December and, having arrived safely, given out before the end of 2014.
A further 2,000 gospel booklets (A letter for you), each of 64 pages in Russian or Romanian, were also delivered for distribution at various outreach campaigns. This well produced gospel booklet is in the form of an airmail letter, and describes God's Word as a letter sent to the reader.
Pray that these materials will be richly blessed to the recipients and that a great harvest of souls will yet be caught in the great gospel net.
To be concluded