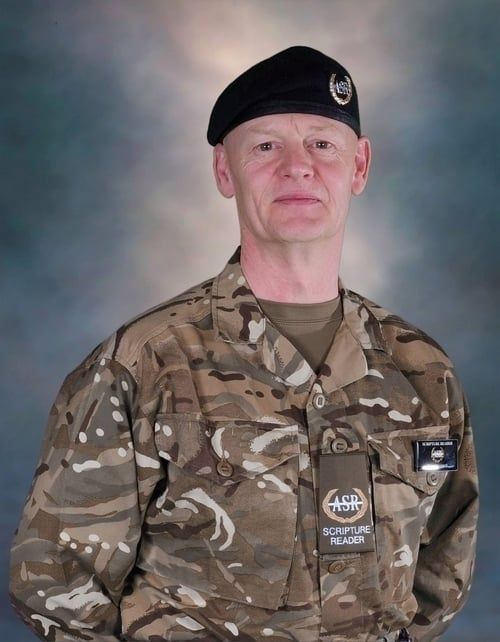 The Soldiers' and Airmen's Scripture Readers Association (SASRA) has commissioned two new Scripture Readers.
The first was Army Scripture Reader (ASR) Jim Henderson. On 22 October 2017, 80 friends and members of the family gathered together at Milton Baptist Church, Stoke-on-Trent, to witness the commissioning of Jim Henderson as an ASR for SASRA.
The association continues to enjoy the unique opportunity to befriend personnel in the British Army and Royal Air Force and demonstrate practical faith in the gospel of Jesus Christ.
Jim's call to SASRA happened while he was studying theology at the College of North Staffordshire. He knew he was preparing for service of some kind, but didn't know where that might be. An advert in SASRA's Ready magazine challenged him. After much prayer and pastoral advice, Jim applied for the post of ASR.
During the commissioning service, Jim's pastor, Dr David Moore, spoke from 2 Kings 5. His subject was 'Every soldier needs a witness' — a message close to Jim's heart. He is now settling into his work in Aldershot Garrison.
From Sandes to SASRA
The second ASR is Dave Hossack, whose commission to SASRA was held at Newcastle Baptist Church, Northern Ireland, on Sunday 15 October 2017, with about 70 friends and family attending.
The service was led by Pastor Mark Patterson, and Rev. D. Andrew Hill. Dave's call to the work of the association was not straightforward. Back in 2011, he and his wife Alison were working as a support couple for army welfare mission Sandes. During this time, they became aware of SASRA through ASR Roddy Macleod. But the moment for change was not right, as Dave and Alison were posted to Ballykinlar in Northern Ireland as part of their ongoing work for Sandes.
In 2014 their role changed significantly and Alison was not in good health. Faced by difficult circumstances, Dave and Alison prayed to the Lord for direction. However, the situation was trying because Dave and Alison believed the Lord had called them to Ballykinlar for Sandes, a location that also brought them nearer to their children and grandchildren.
In April 2015, Dave applied to SASRA, trusting God would make the future abundantly clear, either way. In March 2016 Dave and Alison were made redundant by Sandes. In April 2016, Dave was contacted by SASRA and invited for interview.
However, with a posting to England being proposed, Dave declined, believing the Lord had called him to Northern Ireland. A couple of months later, ASR Roddy Macleod called and asked if SASRA's executive director and his wife could visit.
Dave and Alison welcomed Andrew and Jo across the water, but emphasised they would not be going to England. Needless to say, the Lord had other plans, and they are now settling into the work at Salisbury in England!