Heilbronn in Germany has a population of about 120,000 people. The majority of these would claim to be Catholic or Protestant. Yet the churches they belong to seem very empty. Active church members are mainly elderly folk, while the young have little interest in the things of God.
This is in spite of the fact that, over the years, established churches have been making great efforts to win the youth back into their fold. They have tried every (worldly) method to attract them that they could think of, yet all to no avail. Many church buildings will now need to be sold because of the falling attendance; it simply costs the government too much money to keep them open. Other churches are being consolidated into fewer meeting places, because congregations are so small.
Proud of tradition
There are very few truly biblical churches in Germany which hold to the truths of God's Word. The spiritual condition of Heilbronn is very sad and gospel work here is hard. One needs much grace and patience to persevere in such a place. The inhabitants are a people proud of their traditions and steeped in religious formality. Their spiritual self-sufficiency is no doubt fostered by the high standard of living in Germany, even though taxes here are relatively high and the economy under some pressure.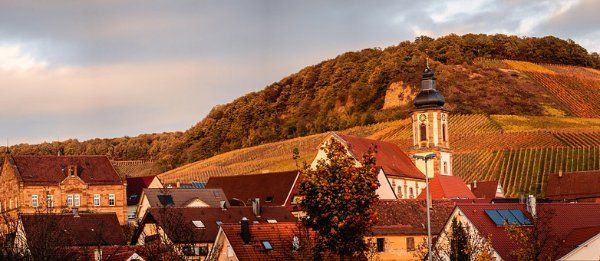 Yet among ordinary people there is some quickening of interest in the things of God. Some of those whom society has placed low in its scale of values, and has forgotten, are responding positively to the preaching of the gospel of Christ. They, at least, have come to acknowledge their great need of God.
Many of these, in fact, are intelligent and educated people who for various reasons have fallen on hard times. Yet, they are responding to the preaching of the gospel. This just proves – as always – that 'not many wise men after the flesh, not many mighty, not many noble are called, but God has chosen the foolish things of the world to confound the wise' (1 Corinthians 1:26-29).
Street preaching
During the summer months we take the gospel of Christ out onto the streets. We stand on street corners and preach Christ, often amidst much opposition. Yet God has given us much grace too. The people in the streets are not particularly responsive to gospel preaching, yet there are a few who show great interest. Germany is a very difficult mission field, and God's people must lift this country up in prayer to God and ask that he would open the hearts of the people to see their great need of Christ.
Christians must not forget to pray for the land where the Reformation began. It was solely God's grace that brought about such a reformation; let us pray that God's Spirit will once again awaken this country.
Although Germany's spiritual condition is tragic, there are times when one is aware that the Spirit of God is at work here. Yet, we do need to experience much more of God's blessings and power. May God grant us the grace and power to bring the glorious gospel of his dear Son back into the land which once knew great light.