Fact File: Peru
Area: 496,225 square miles.
Neighbouring countries: Ecuador, Colombia, Brazil, Bolivia and Chile.
Environment: An arid coastal plain extends down Peru. Most industries are concentrated in this plain. Parallel and to the east of it is the upland sierra, which includes the rugged Andes Mountains. Further east is the western part of the tropical Amazon Basin. The Andes have some of the highest mountains in the world, notably Huascaran (22,205 ft).
Population: 26.7 million.
Life expectancy: 70 years.
Capital: Lima (nearly 7 million). Other cities: Arequipa (1.2 million), Trujillo and Chiclayo. Main port (for Lima) is Callao.
Ethnic groups: Amerindian (descendants of the Quechua and Aymara) 45%; mestizo (mixed Amerindian and white) 37%; white 15%; black, Japanese, Chinese and others 3%.
Languages: Spanish, Quechua and Aymara are official languages.
Literacy: 67% (approx.)
Natural resources: Minerals – copper, silver, gold and iron; fossil fuels – petroleum and coal; forestry timber; fish. Hydroelectricity is a significant source of power.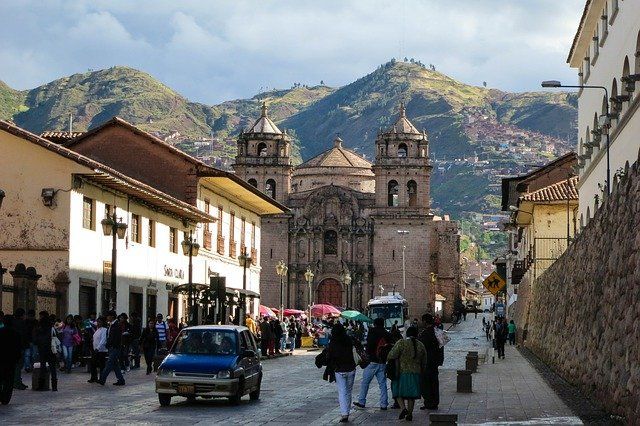 Economy: The Peruvian economy is weak, and there is high unemployment. This is due in part to the activity of leftist guerrilla groups such as 'Shining Path'. Peru is a significant producer of cocaine, exporting it into the illegal drugs market, via Colombia and Brazil.
Religions: Roman Catholics 89% (often animistic), Protestants 7%, animists 1%, cults 2%, others 1%. Roman Catholicism was the state religion until 1978.
Protestant denominations: Various Pentecostal and Holiness Churches, Evangelical Church of Peru, Christian and Missionary Alliance, Methodist, and many other smaller groups. The majority of Protestants claim to be Evangelical, and half of these are Charismatic or Pentecostal.
History: Peru was once part of the vast Inca empire that extended through large tracts of South America. Inca gold and silver attracted invading Spanish conquistadors during the sixteenth century. Independence from Spain was achieved in 1821. This was followed by years of social and political chaos, until Ramon Castilla seized power in 1845 and laid the foundations of the present nation. The next century brought a succession of dictatorships and military governments.