January 2002 saw the 10th year of publication of Les Échos de la Vérité, the miniature French-speaking brother of Evangelical Times!
Les Échos is an 8-page newspaper, published quarterly by Éditions Europresse, an organisation that is part of Evangelical Press' missionary work to the French-speaking world, chiefly Europe, Africa and the West Indies.
Coupled with this newspaper, Europresse is involved in broadcasting Christian radio programmes to French-speaking countries via radio stations like FEBA, Family Radio and ELWA.
New opportunity
In 1990, ELWA's transmitter in Monrovia, Liberia, was destroyed in the civil war. Suddenly, we found ourselves without an airwaves voice in vast areas of Western Africa. Yet the gospel of God's sovereign grace in Christ still had to be proclaimed.
This 'setback' proved to be the opportunity to begin publishing an inexpensive gospel newspaper that could be distributed even in the poorest areas.
One may wonder about the value of producing such a small, unnoticeable item as an 8-page newspaper. Whatever could be achieved through that? The answer is – if God's voice is heard by the readers, then just trust him for the results!
Each quarter these 8 pages go out into great tracts of the French-speaking world. Many brethren have caught the vision and are distributing large quantities of Les Échos, sometimes at great cost to themselves.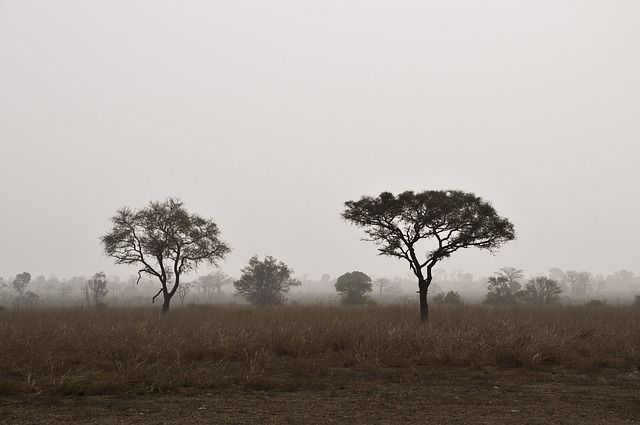 Changed lives
There have been many examples of the Lord using the paper to reveal his grace and change lives, both in cities and in the African bush.
The newspaper contains news about the Christian world and articles in which the grace of God is presented, explained and applied. Its contents are often taken from ET (although the reverse has been known to happen too!).
The newspaper format is everywhere perceived as user-friendly. It interests people, without making them feel threatened. A newspaper often lies on a table or counter for some time, and then someone picks it up – after that, who knows what can happen!
Recently a brother from Cameroon decided to try distributing Les Échos. He now takes out 200 copies each quarter.
Or – to give another example – a sample copy lay unused for some time on a church book table. It was then picked up by someone who had recently discovered the grace of God, through the Epistle to the Romans.
Now, as a result, this Christian is engaged full time in publishing Christian books. All this for the cost of a stamp and by the mysterious providence of God!
Message
The message of Les Échos is that the salvation of sinful man is the work of a sovereign God who, in grace and mercy, grants salvation to those whom he has chosen in Christ from before the foundation of the world (Ephesians 1:4).
Today the emphasis in evangelism is so often placed upon man and what he must do to earn his salvation, or 'make Christ's work effectual'.
In contrast, the Bible teaches that even the repentance and faith that a person exercises towards God and Christ are God-given (Ephesians 2:8).
This is the message of the historic gospel, once so prevalent in France but now so rare. Les Échos, under God's blessing, is calling people back to 'the old paths'.