Rev. Maurice Handford (1925-2012)
It is with great sadness that we report the death of Rev. Maurice Handford. For some months Maurice had been suffering from cancer. The Lord called him to himself on Wednesday September 11.
   Mr Handford was an Anglican minister who unashamedly contended for true biblical Christianity and the 39 Articles and Book of Common Prayer, a true pastor and preacher. He will be greatly missed in the evangelical wing of the Church of England and in many nonconformist churches to whom he faithfully gave ministry and counsel.
   As a young person he attended St George's Church, New Mills, in Derbyshire, where he sang in the choir. It was during those years that God saved him from his sin.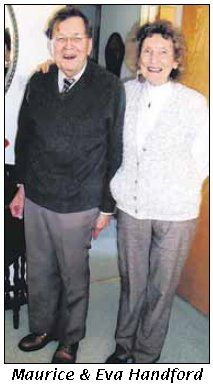 During the war years his family home was bombed, killing his sister. In the providence of God, Maurice had gone to a neighbour's home and so his life was spared. While in the army he met up with two Christian people in Brussels, who gave him Bible studies in their home.
   These studies gave Maurice a strong desire to preach the gospel. On leaving the forces, he went to Oak Hill College to train for the Anglican ministry, where he studied from 1948-1952.
Irish Church Missions
After leaving theological college he became curate to Canon Tom Horan in Dublin and it was there that he was ordained as a minister. For many years he was deputation secretary for the Irish Church Missions.
   In 1955 Maurice married his first wife Connie, but she passed away in 1983. Then in 1986 he married Eva. Maurice Handford spent most of his life ministering God's Word at Trinity Church, Buxton (1958-1987). Later he returned to the Republic of Ireland and ministered in the parish of Clondevaddock as a Church of Ireland minister.
   Further to his busy ministry, he was editor of the Gospel magazine (founded by Augustus Toplady) for 20 years. In 1990 he retired from full-time ministry to Cheadle Hulme, Cheshire.
   Here he took an active part in St Mary's Parish Church (evangelical). His funeral was held there, when a large congregation attended. The minister, Rev. Bob Munro, preached powerfully from the latter part of Romans 8. Afterwards our deceased brother was interred with his first wife in Fairfields Cemetery, Buxton.
   Maurice is survived by Eva, who lives in Kibworth Beauchamp, Leicestershire. We assure her of our deepest sympathy and prayers. One believes that if every cleric in the CofE was like Mr Handford, things would be healthier both in church and nation.
   We can say with John Bunyan, 'So he passed over, and all the trumpets sounded on the other side'.
Peter Hulland