On 14 September 2016, the Lord called home one of his choice servants, and one of the most respected ministers in the British Isles: William Vernon Higham, pastor emeritus of the Tabernacle Cardiff.
The funeral service was held in the Tabernacle Cardiff on Tuesday 27 September. Pastor Robert Dickie, of Berean Baptist Church, Michigan, a long-time friend of the Higham family, officiated.
Conversion
Vernon Higham was born on 25 December 1926 and came to faith in Christ while studying at the Presbyterian Theological College at Aberystwyth, Wales.
He had gone to an evangelical meeting there with the intention of mocking those present. But when he heard them praying for him and saw their deep love for Christ, he was deeply convicted of sin. A few days later, the Lord visited him and he was given repentance and faith in Christ. From the earliest days of his conversion he had a deep and passionate love for Christ and his gospel.
Vernon was married to Morwen in September 1955. She was a true pastor's wife and her love and support to her husband were a tremendous blessing to his ministry. They enjoyed a long and fruitful ministry, and celebrated their 61st wedding anniversary just a few days before the Lord called Vernon to glory.
Vernon was a prolific hymn writer and some of his hymns have become greatly blessed of the Lord and used all over the world. His most famous hymn is 'Great is the gospel of our glorious God'.
Vernon loved his native land of Wales, and loved to preach whenever he could in Welsh churches using the Welsh language. He was a student of the great Welsh revivals and promoted an interest in them throughout his ministry. He pastored two Welsh-speaking churches, one in Pontarddulais and the other in Llanddewi Brefi. In these, he knew a measure of spiritual blessing from the Lord.
Then, in 1962, he was called to the Heath Church in Cardiff, where he served the Lord faithfully for 40 years as pastor and where he knew remarkable blessing. After that, he served at Tabernacle Cardiff, where his son Dewi was pastor.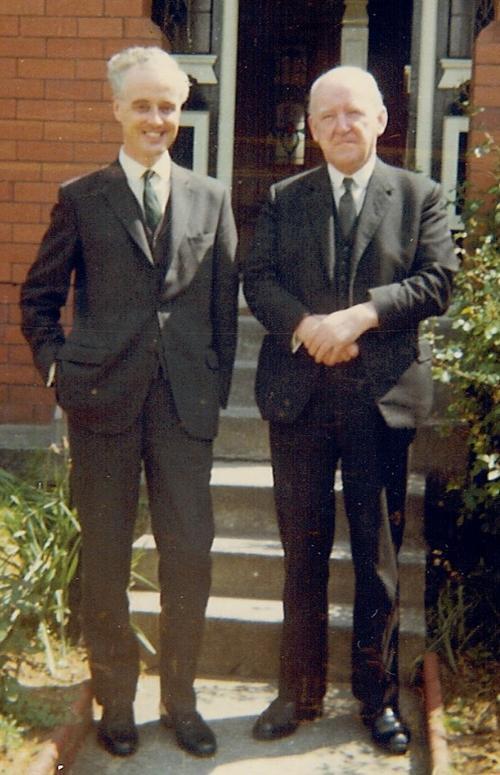 Blessing
When 38, Vernon became seriously ill and was given just six months to live. By the grace of God, he lived 15 years with this illness and his church at the Heath experienced unusual blessing from the Lord. It grew to over 1,000 people attending each week to worship God and hear this remarkable preacher.
During this period, Dr Martyn Lloyd-Jones (DMLJ) came to see Vernon and prayed for him. In answer to that prayer, Mr Higham was healed. Remarkably, he lived more than 50 years beyond the date he had been given to live. He saw continued blessing on his ministry in Wales — blessing which had a far-reaching, global impact.
Vernon met many pastors and ministered in many churches in the USA during those years. It is estimated that he spent one and a half years in the US and preached nearly 1,000 sermons there.In 1989 Vernon Higham met Robert Dickie, who was visiting Cardiff. Pastor Dickie invited Vernon to go to America to preach the gospel. Vernon and Morwen accepted the invitation and for the next 21 years went over each year, for 4-6 weeks, to preach the gospel at Berean Baptist Church in Grand Blanc, Michigan.
These churches and many Christians in America were deeply blessed. When Pastor Dickie was in Wales to officiate at the funeral service, he received texts from all over the USA expressing deep love and appreciation for this man of God.
Vernon Higham was known as a close and personal friend of Dr Martyn Lloyd-Jones. He was asked by the latter's family to handle the funerals of both the Doctor and his wife. Just one day before Vernon's funeral, Ann, a daughter of Dr Lloyd-Jones, asked Bob Dickie to tell those present that her father had considered Vernon Higham his very best friend.
Unction
Vernon Higham was a gifted preacher and a devoted pastor to his people. He was known as a great encourager who visited his flock and discipled them faithfully. He was known as a man filled and anointed with the Holy Spirit and preaching with a remarkable unction from the Lord.
His ministry was characterised by a warm, Calvinistic and experiential emphasis and marked by the special presence of God. He stood for 'three R's', as he called them: Reformed in doctrine; Reverence in worship; and a Radical change of life.
Vernon's last days were filled with great love for the Lord. He continued to worship at the Tabernacle up to the time he was taken to hospital. There was a sense of the Lord drawing near to him during his last days and filling his heart with heavenly happiness.
Robert Dickie