Stanton Lees and the jet stream
A wet August bank holiday was the setting for this year's Bible School at Stanton Lees Chapel, Derbyshire.
   The event was shortened this year from five days to three, relieving the burden on those who prepare food for the crowds. And crowds there were, especially on Monday, with the chapel full and many more filling the schoolroom below.
   On Saturday and Sunday, Pastor Chris Buss, from Ridley Hall, Battersea, preached on the book of Ruth. The family into which Ruth the Moabitess married was scarcely a good example of God's people, having fled from famine instead of trusting the Lord.
   Yet Ruth was drawn to God and insisted on returning to Bethlehem with Naomi, though there was little prospect of a future for her there. However, God led her to Boaz, the kind and honourable relative whose love and protection foreshadowed the grace of the Lord Jesus Christ.
   Boaz willingly risked his own reputation in marrying Ruth, a foreigner. In the same way, Christ 'made himself of no reputation' and went to the cross, in order to claim sinners and make them his holy bride.
   On Sunday afternoon Pastor Chris Hand from nearby Crich had been asked to speak on the subject 'Why preaching?' — a pertinent question at such an event, particularly when preaching is so often disparaged.
Zachary Macaulay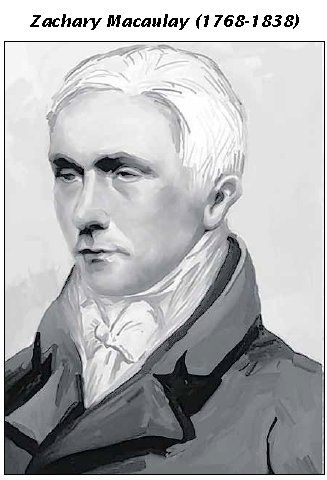 Monday morning began with a historical lecture, given by well-known Christian author, Mrs Faith Cook, on the life of Zachary Macaulay. After conversion he became the unsung hero of the anti-slavery campaign, his labours matching those of Wilberforce.
   Macaulay was a brilliant administrator, and his detailed research and meticulous briefings were vital to the success of the abolition movement.
   Two rousing messages by Stuart Olyott rounded off the Bible School. Who that was present can forget his manual illustration of the text from Genesis 32:29, 'He blessed him, there'? God blessed the swindler Jacob, saving him from his brother Esau, giving him a wound that was a lifelong reminder to cling to God, and working a substantial and lasting change in his heart.
   The final sermon was on the gospel feast in Isaiah 55. There is abundant food on the table and it is all free — assurance of God's love, peace of conscience, joy in the Holy Spirit, and glory at last.
   We are invited to eat it, taking Christ to be ours. The invitation is unstinting and unrestricted. The outcome will be that our souls will delight in abundance.
   Unseasonable weather prevented the usual strolls on neighbouring moorland, and many people remained in the chapel between meetings to keep dry. Full advantage was taken of this extra opportunity to sing the praises of God.
   The depth of ministry and the high, reverent spiritual tone of the conference were appreciated by all.
Stephen Ford