I have to admit that when I first signed up to do Weymouth beach mission, it wasn't all about serving God and sharing the gospel. I did want to do those things but there were other reasons too! My brother-in-law and sister had been encouraging me to come for some time and I was keen to spend some time with them. So you could say I wasn't the best prepared for what I was about to do. I soon realised that when I arrived. On Sunday afternoon the training began and I think it was then that the full impact of what beach mission was hit home.
I learned that this week of beach mission with the Open Air Mission would involve going to the beach in the mornings and early afternoons, playing games with the children, telling Bible stories, doing quizzes and  learning memory verses. All the team would be involved each day with a different task. After we finished our time with the children we would play volleyball with teenagers and adults if possible. In the evenings we would be involved with open-air witness on the seafront. One of the leaders would speak and then others from the team and Christians from the local area would give their testimonies. On the days we couldn't go to the beach (due to the weather), we would have either an open-air in town or a coffee afternoon back at base.
Each morning there would be time set apart for our own daily devotions and then team devotionals where we were looking at the first few chapters of Ephesians. We would also have team prayer after going to the beach and after each open air. I really appreciated the times set apart for 'recharging' and focusing on God. These were so special, I really couldn't have made it through the week without them.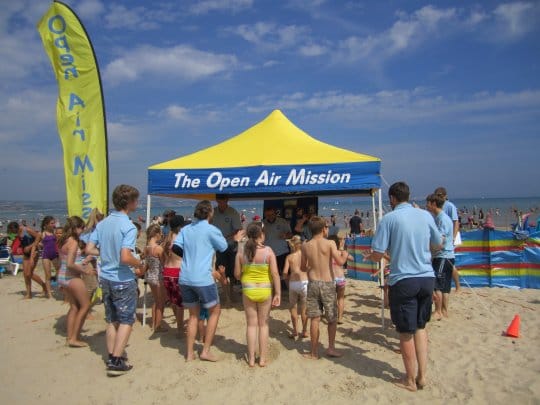 When there were people at the beach, we faithfully packed up the trolley and set off. All through the week the number of children was rather low, but what was remarkable was that the children who came stayed all the way through the Bible stories we told. Those children heard the gospel, some of them more than once. In some ways the low number actually helped in that our small team was not overwhelmed at the beginning. I loved working with the children, and it was a real privilege to be able to work in a small united group of believers.
Each evening we were trying to reach out, with the gospel, to people in the open air. I shuddered at the thought of handing out tracts to people! I was terrified at the idea of being willing to share the gospel with those who look interested. I felt inadequate, so weak, so young and inexperienced. I'd never helped before at an open air. On the first night I sent a text to my Dad: 'Help, I'm feeling so scared and overwhelmed'! He texted back with the verse, 'When my heart is overwhelmed: lead me to the rock that is higher than I' (Psalm 61:2). I saw then my mistake of thinking that I was on my own. I took it to God and poured out my fears, and begged for his help. I learned that God is bigger than my fears. He enabled me to do things that week that I never thought I could do.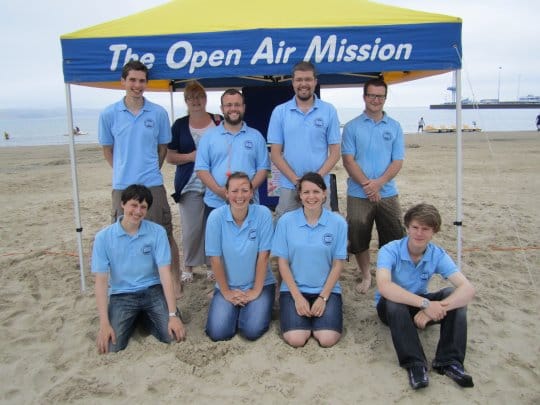 It was so hard trying to hand out Christian leaflets to those walking past. Every time someone refuses it's so easy to think there's something wrong with you, that these people have something against you and to become depressed! A piece of advice that I found so helpful, which the team leader gave us when talking to people, was something along the lines of 'Don't try and win the argument. Don't try and appear all-knowing and academic. Don't bluff your way through the conversation. Tell them what God has done in your life. They can't say anything to that!' So in every conversation I had, I was able to share how God was working in my life. I also had to 'pray my way' before, during and after every conversation. To pray that God would use what I said in my stumbling and confused way. That he would make them forget what I said that was wrong, and remember that Jesus is able to save.
After it was all over many people asked me 'How was the beach mission?' I replied, 'I've never been so challenged as a Christian in my life'. However despite being so challenging it was also amazing. Amazing to see children excited when they saw us wheeling the trolley down to the beach. Amazing to be able to share with so many confused and lost people from so many walks of life the truth about Jesus. Amazing to work with such a dedicated group of Christians. Amazing to serve a God who is bigger than all our fears! I would thoroughly recommend it. Not so you can have a beach holiday (take it from me, it's no holiday!) but so you can learn in a whole new way what it is to serve God without keeping anything back. To be challenged to tell others about Jesus and to give him all the glory for all the opportunities you have.
So… find out more and sign up for next year here… http://www.oamission.com/beach.html
Laura Rowell