Testimonies at Sidmouth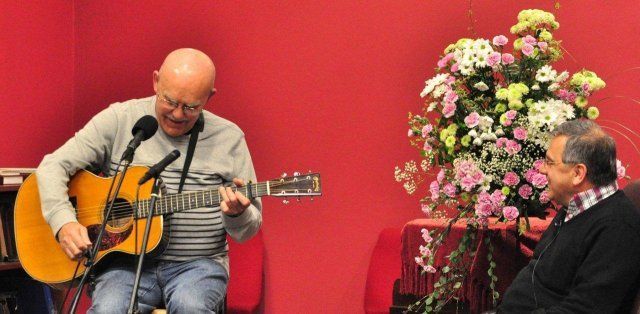 From 8-14 April, a series of Parkinson-style interviews took place at Emmanuel Baptist Church, Sidmouth. Coming from the same county as the real Michael Parkinson, Yorkshireman and evangelist Roger Carswell interviewed a variety of inspirational Christians.
The first was Professor Stuart Burgess, head of engineering design at Bristol University, who has written extensively on the evidence for creation and a creator.
The interview was a revelation of how God has worked in Stuart's life, leading him from a dysfunctional family background and poor academic achievement at school to be one of the country's top design engineers.
Musicians Gus Eyre from Lancashire and John Gaughan, formerly with pop group Herman's Hermits, spoke of the effects of alcoholism on them and how turning to Christ had transformed their lives.
They spoke of their current service in composing and performing Christian music, and their witness to the addicted, helpless and hopeless.
Fiona Castle, widow of Roy Castle, spoke on two occasions, telling her own story of battling with depression while trying to be the perfect wife and of her cure through experiencing a personal relationship with Christ. She movingly described life with Roy and the glamour and demands of the entertainment industry.
Mr Carswell then interviewed Nicola Mathers, who lives with constant pain following a climbing accident. Despite several failed operations, she told of the joy she daily experiences in her Christian life.
Test cricketer Henry Olonga told his story in words and song. He was the first black player for Zimbabwe's national team. He described death threats he received for criticising President Robert Mugabe's regime and of God's miraculous provision of an escape from that country.
Following each interview, Mr Carswell gave a gospel message and invited seekers to attend a follow-up course based on the book, A stranger on the road to Emmaus. The meetings were well attended and a number of people have so far signed up to take the course.
John Marchbank