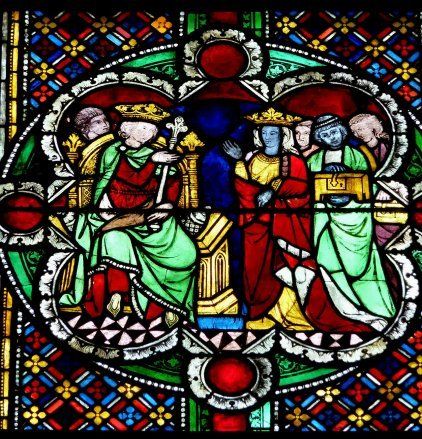 'You haven't heard the half of it!' We sometimes use this expression when relating our experience to someone who has only the gist of it, but not the full story.
The experience could be a wonderful or terrible one. We send a postcard to a friend from an exotic holiday location: 'Having a wonderful time…' On returning home, we say, 'It was far greater than we could portray on the back of a postcard; the half has not been told'.
Or we meet a war veteran. We have read about war, but he knows what it is like at ground level. A companion of his was killed by a roadside, booby trap bomb; he finds it difficult to talk about. 'Hopefully, you will never know its reality', he says. 'The half has not been told'.
Queen of Sheba
This expression originated from the lips of the Queen of Sheba in the 10th century BC, as related in the Old Testament.
Sheba is in south west Arabia — modern day Yemen. The queen had heard about the wisdom and reputation of King Solomon in Israel, and was so intrigued that she travelled over 1000 miles to meet up with him in Jerusalem.
She wished to satisfy her curiosity and possibly also make a trade agreement with him. Israel at the time was enjoying unrivalled economic prosperity, although, sadly, under King Solomon a spiritual decline was setting in.
Her visit surpassed her wildest expectation and imagination. Upon quizzing King Solomon, she found that he actually was as wise as the reports had suggested. She exclaimed, 'It was a true report which I heard in my own land about your words and your wisdom.
'However I did not believe the words until I came and saw it with my own eyes; and indeed the half was not told me. Your wisdom and prosperity exceed the fame of which I heard' (1 Kings 10:6-7).
Experience
We can apply this expression in a spiritual sense. When we come to saving faith in Christ, and know the joy of salvation, it is a case of 'the half has not been told'.
We did not realise it was so before we trusted Christ, for we were only half alive — alive physically, but dead spiritually. But the Bible says, 'Therefore, if anyone is in Christ, he is a new creation; old things have passed away; behold all things have become new' (2 Corinthians 5:17).
Describing the joy of salvation to a non-Christian is akin to describing a beautiful sunset to a blind person, or a Beethoven symphony to someone who is deaf. It is greater than words can tell. It has truly been said:
Heaven above is softer blue,
Earth around is sweeter green;
Something lives in every hue,
Christless eyes have never seen:
Birds with gladder songs o'erflow,
Flowers with deeper beauties shine,
Since I know, as now I know,
I am His and He is mine.
George Wade Robinson, 1838-77
Heaven
When the Christian reaches glory and sees the Saviour face to face, surely then it will also be a case of 'the half has not been told'.
We will realise afresh the cost of our redemption and the depths of the Saviour's love. The splendour of heaven will exceed our greatest expectation. Even with our previous light from the Bible, we will have to exclaim, 'The half has not been told'. 'Eye has not seen, nor ear heard, nor have entered into the heart of man the things which God has prepared for those who love him' (1 Corinthians 2:9).
What will heaven be like? It will be greater and more glorious than tongue can presently tell. For the Christian, it is home — the place of safety, peace, rest and contentment. Jesus said, 'In my Father's house are many rooms ['abiding places']; if it were not so, would I have told you that I go to prepare a place for you?' (John 14:2).
In the Father's house — that is, in God's nearer presence — we shall be eternally saved, eternally safe and eternally satisfied. 'Nothing … will be able to separate us from the love of God in Christ Jesus our Lord' (Romans 8:39).
Our fellowship with God our maker will be unhindered and unhandicapped. Our joy will have no end. We will finally be able to fulfil our chief end: glorifying God and enjoying him for ever.
When it comes to the Christian's future blessedness, truly, 'The half has not been told!'
Timothy Cross