Augustus Montague Toplady, author of such well-known hymns as 'Rock of Ages' and 'A Sovereign Protector I have', died in 1778 at the age of thirty-seven.
Some of the most moving utterances ever made fell from Toplady's lips in the closing weeks of his life, as his long illness drew to its close, and he knew he was soon to die. The last three months of his life, during which he was confined to his rooms in Knightsbridge, were a period of continuous joy and almost uninterrupted communion with Christ. He would frequently explain, 'O what a day of sunshine this has been to me! I have not words to express it. It is unutterable. O, my friends, how good is God! Almost without interruption his presence has been with me'. And of Christ, he declared, 'His love is unutterable'.
Triumphant faith
As death approached, his spiritual consolations appeared to increase. A friend discovered him glorying in Christ's righteousness and testified, 'He was so affected with a sense of God's everlasting love to his soul that he could not refrain from bursting into tears … he evidently possessed the fullest assurance of his most triumphant faith … His soul seemed to be constantly panting heaven-ward'.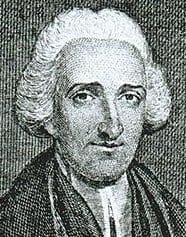 A few days before his death, the same friend, finding him sitting in a chair hardly able to speak, asked him whether his consolations continued to abound, to which he replied, 'O, my dear Sir, it is impossible to describe how good God is to me. Since I have been sitting in this chair this afternoon (glory be to His Name!) I have enjoyed such a season, such sweet communion with God, and such delightful manifestations of his presence with, and love to my soul, that it is impossible for words, or any language to express them. I have had peace and joy unutterable: and I fear not but that God's consolations and support will continue'.
Sensing, perhaps, that he was presuming too much, he added: 'What have I said? God may, to be sure, as a Sovereign, hide his face and his smiles from me; however, I believe he will not; and if he should, yet still will I trust in him; I know I am safe and secure; for his love and covenant is everlasting'.
A sinner greatly loved
An hour before his death, he announced to his gathered friends and servants, 'It will not be long before God takes me, for no mortal man can live' (and while he said this he wept with tears of joy), 'after the glories which God has manifested to my soul'. Who would not die a thousand deaths, were this the death to die!
Kind Author, and ground, of my hope,
Thee, thee, for my God I avow;
My glad Ebenezer set up,
And own thou hast helped me till now.
I muse on the years that are past,
Wherein my defence thou hast proved;
Nor wilt thou abandon at last
A sinner so signally loved.