The declarations and prayers of Psalm 27 are made against the dark background of a host of enemies: evildoers who slander, do violence and seek the destruction of King David, the author of this psalm. David likens them to 'wild beasts' (v. 2) and to a surrounding army (v. 3). Against such odds, the king is incredibly defiant. He writes: 'The Lord is my light and my salvation; whom shall I fear? The Lord is the stronghold of my life; of whom shall I be afraid? When evildoers assail me, uttering slanders against me, all my adversaries and foes, they shall stumble and fall. Though a host encamp against me, my heart shall not fear; though war arise against me, yet I will be confident' (vv. 1-3).
How can David be so 'confident', with such treacherous and fearsome enemies seeking his destruction? How may we be confident when encircled by our own spiritual and physical enemies? How may we experience God's protection in 'the day of trouble' (v. 5)? Read verses 4 – 8 of our psalm, and notice several things.
The beauty of the Lord
In the first place, David was confident because he had a single-minded purpose. God had commanded David, 'seek ye my face' (v. 8), and David had obeyed. To seek God's face we must look to Jesus Christ, for it is in his face that God's glory is revealed (2 Corinthians 4:6). The face of Christ is that which expresses his person and reveals his glory, which the apostles beheld, 'full of grace and truth' (John 1:14).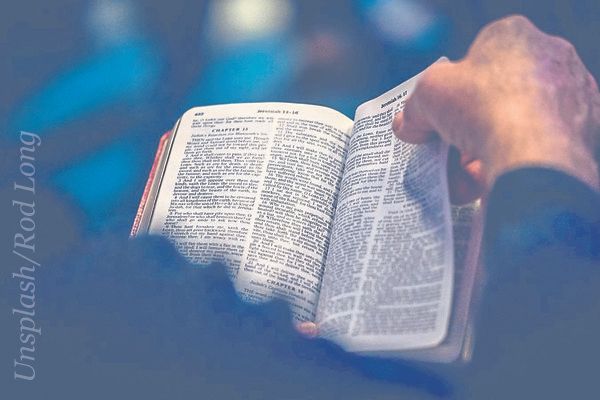 The psalmist continues: 'One thing I have asked of the Lord, that will I seek after.' This 'one thing' embraces three godly priorities, namely, 'to dwell', 'to behold', and 'to inquire'. King David had a preoccupation with the things of God, and so should we. Again, these Scriptures point us to Christ. Believers dwell with God because they are 'in Christ', united with him by the regenerating work and indwelling of his Holy Spirit (Galatians 4:6-7). They behold the beauty of the Lord in the face of Jesus Christ, as we have already seen. They may inquire of God through Christ, because God has spoken to us through his Son (Hebrews 1:2) and in him 'are hidden all the treasures of wisdom and knowledge' (Colossians 2:3).
The secret of David's confidence in God was his preoccupation with God. The glory and power of God so filled his view that he had no doubt about his ability to overcome those who wished to do him harm. He defeated fear by setting his affections on things above, desiring above all else to 'dwell in the house of the Lord all his days, to behold the beauty of the Lord, and to inquire in His temple'.
The ministry of memory
In the second place, David was confident in God because of what God had done for him in the past. 'Thou who has been my help', he says (v. 9). God had never failed him! He had such faith in God that he could say 'when my father and my mother have forsaken me, the Lord will take me up' (v. 10). Do we have that kind of trust in God? A trust which transcends the closest human relationships? If so, we shall be able to proclaim with David, 'I believe that I shall see the goodness of the Lord in the land of the living.' The psalm has come full circle from verse 1 to verse 13.
The need for patience
But there is one more thing: we must be patient (v. 14). 'Wait for the Lord; be strong, and let your heart take courage; yea, wait for the Lord!' For those who are puffed up with self-importance, verse 14 will always cause problems, since it is humbling to have to wait for another to assist us. But if we value the One on whom we wait, the Lord God Almighty, then we will be more than happy to leave the initiative to him. So let us take heart. Let us trust in the Lord, and 'seek his face'. Let us desire to 'behold the beauty of the Lord, and to inquire in His temple'. For then we will have the confidence of David, who could say of God: 'He will hide me in His shelter in the day of trouble; He will conceal me under the cover of His tent, He will set me high upon a rock' (v. 5).