I was born and brought up in South Wales. My parents had moved there as part of my father's calling to be a pastor, and my earliest memories include church attendance as one of life's normal activities.
My brother, my sister and I were required to attend morning and evening services on Sunday, as well as Sunday school in the afternoon, and all I can remember was how mind-numbingly boring it all seemed.
Indifferent
I used to sit next to my grandmother in the morning service and she used to slip me hardboiled sweets during the sermon, probably out of sympathy. I would try to make these last as long as possible, so that the sermon would pass more quickly, but generally without success.
I was very conscious of having the identity of someone who came from a Christian family. This was partly due to not being allowed to compete in sport on a Sunday. This resulted in my brother and me not entering some of the swimming competitions, which were already such a big part of our lives.
I didn't mind this at all — it meant that we were different and it seemed a strangely principled thing, which held its own attraction. This contrasted, however, with the spiritual side of my religion. This, in short, seemed totally non-existent. I had no real idea of who God was and no particular interest in finding out.
All I knew was that, if he was there, he was nowhere near me. I remember on one occasion being sent to my room for shouting some blasphemy at the meal table, and my father warning me of the seriousness of this, saying I should pray for forgiveness.
I did, but felt the same nothingness both before and after the prayer. Even as a child it seemed farcical and totally unreal.
This, I have to admit, changed just before my early teens. Despite a lingering fear that the second coming of Christ was going to catch me out in an unguarded moment and that, in consequence, all would be ill, I never really thought about spiritual things.
I went along to church services primarily to keep the peace and yet it was in these that my views started to change. There was an element of those Baptist services in South Wales that could only be described as literally awesome.
Impressed
The whole spectacle — people together in solemn assembly, the soaring hymns, the sermon themes of God's righteousness and love, the sheer power and sense of occasion — it all started to make a deep impression on me.
I was also clearly conscious of a spiritual dimension in these services, of God's presence and an inner compulsion to respond to his call on my life. So I made my first profession of Christian faith at the age of 12. And it made virtually no difference at all!
I just seemed to carry on as I had before. I had little interest in the school I attended, which just seemed to get in the way of my swimming career.
With hindsight, I am grateful for my participation in this sport. It helped me to negotiate the difficult years of adolescence by gaining some credibility from my friends. I probably took things too far though and became obsessed with daily training and winning races.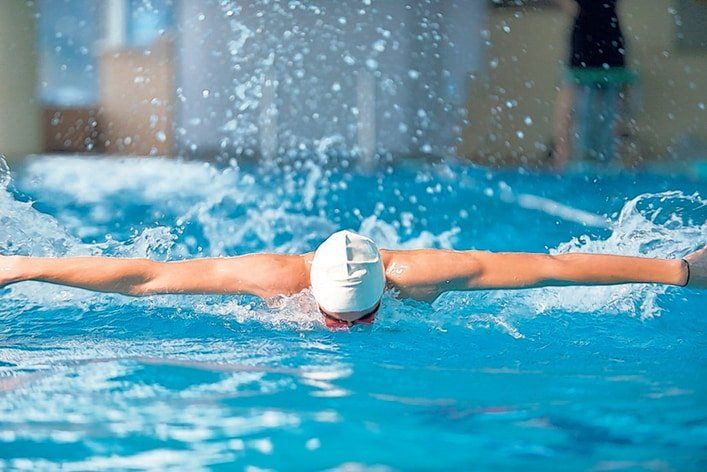 I was privileged to pick up a number of Welsh titles along the way and represent Wales as a schoolboy. I still went to church and spent a few minutes reading the Bible each day, and yet, I can say with hand on heart, that it never entered my mind that being a Christian should involve more than a nominal commitment. This all changed during my first year at university.
I had chosen Swansea mainly because of its reputation in swimming and was ready to engage in a far more intensive training programme than before.
Looking back now, it all seems a bit crazy — three hours in the pool most mornings, followed by an hour in the evening, with three additional gym sessions every week. My main memory is one of near total exhaustion! But I enjoyed the discipline it involved and working towards a goal
Disturbed
In contrast, however, I can remember at this time becoming increasingly disturbed by certain aspects of my life. Strangely enough, these often related not to the many foolish things I did, but rather to my speech.
I don't think I was worse than other youngsters of my age; and in some environments probably much better, and yet I can remember waking up on many occasions bitterly regretting things I'd said the day before.
I had a clear sense of shame over these, and would resolve to improve, but nothing changed. This coincided with a growing sense of the emptiness of life. This was odd, as it didn't seem connected to any sad episode I had experienced, or any tendency to melancholy. It was just simply there, sometimes more so.
Certainly, winning swimming races from time to time was fun, but worry and fear of failure never seemed too far away before a big race, and when things didn't go well misery followed. And even after a good outcome, the old sense of emptiness would return, although I never to spoke to anyone about it.
Things came to a head following a competition in Bristol. The morning had gone well, and I had won the 100 metres breast-stroke in a time that really excited my coach, resulting in him making all sorts of predictions about the future (as coaches tend to).
I too was pleased with the time, but, as the day wore on, the sense of emptiness and the futility of it all returned with a vengeance. By the time I arrived home that evening, I was in a state of despair.
I just couldn't understand it. I had had a reasonably successful day; prospects for the future were good, but, at this point, everything — and I mean everything — felt empty and bleak, and I hadn't a clue what to do next.
Determined
Well, with one exception. I resolved that the next morning — a Sunday — I would not simply go to church and meditate about swimming for an hour (previously a pleasant activity), but that I would really listen.
I was going to take it all in. I was ready now to pray. I think I had known for a long time that this was something I needed to do. I had pushed it to the back of my mind and put it all off, but enough was enough. To put it frankly, I was getting desperate and knew things needed to change.
It was then, once more hearing about the Lord Jesus Christ and his dying on the cross in our place as an act of love and sacrifice, that really hit home. I knew the relationship with God I'd started but never developed was the answer to the deep questions I'd been asking.
I remember praying that, if the Lord was willing to take me back, I'd be back (by his grace) for good — and this time taking it seriously.
And, amazingly, that was 18 years ago! The subsequent years have seen marriage, parenthood and full time secular employment, before I entered the Christian ministry at the age of 30. Seven years later, I'm a church worker and relishing what I do.
An especial joy for me has been my Christian involvement with the Romanian community, both in the UK and in Romania. It's been fantastic to develop relationships with these dear people.
Every Christian has their own experience of faith and it would be a lie to say there are no ups and downs, but I hold on to Psalm 94:18-19: 'If I say "my foot slips", your mercy, O Lord, will hold me up. In the multitude of anxieties within me, your comforts delight my soul'.