This coming November will see the second anniversary of Typhoon Haiyan, which left over 7000 dead and more missing in the Philippine provinces of Samar and northern Leyte. Tacloban City was particularly hit, with thousands being killed and displaced.
Over the past two years, Christian Compassion Ministries (CCM), the benevolent arm of Cubao Reformed Baptist Church located in Metro-Manila, has continued to help displaced families and schools in the Tacloban.
We have continued to give relief packs where such have still been needed and where families have little income, if any. Schools have been lacking books and often have had no electricity or ceilings in classrooms with metal roofs.
CCM has sought to continue aid in such situations. They have also sought to help in the most needy area of all — the spiritual realm. On every occasion when relief goods have been distributed, gospel preaching has also taken place alongside the practical help.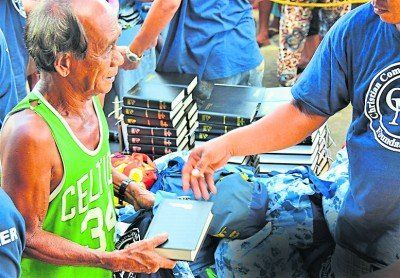 Our concern for the victims of this terrible event has continued up to the present. One of our great desires is to see a sovereign grace church planted in Tacloban. While I was in the UK, a church which had given generously to the Haiyan Relief Fund said they would be happy if the money remaining from their gift was used in a church-planting work in Tacloban. That has now been taken up and such a work is just beginning.Tracts have been distributed and, on one such relief operation, 5000 Bibles in Waray — the local language — were given away free to families.
They have adopted the 1689 Baptist Confession of Faith. They are now sending one of their gifted men to spearhead church-planting work in an area of Tacloban. A house has recently been rented for this purpose and the first meetings have taken place.An hour to the south of Tacloban, in an area which was less affected by Haiyan, is our sister church, the Abuyog Reformed Baptist Church. This church has been helped by Cubao Reformed Baptist Church to come to embrace the doctrines of grace.
We covet the prayers of God's people that a sovereign grace church will be established in Tacloban, to the glory of God.