In the United States many young Christians are wearing wristbands bearing the letters 'WWJD'. The same bands have now become available in Christian bookshops in the United Kingdom. What do the letters WWJD mean, and what is the purpose of these wristbands? WWJD stands for 'What Would Jesus Do?' and the wrist-bands remind wearers to ask themselves, before every thought and action, 'What would Jesus do?'
The wristbands were introduced in 1989 by a group of Christians in Holland, Michigan. However, the story goes back over one hundred years, to a book written in 1896 by Charles M. Sheldon entitled In His Steps. The book tells the fictional story of a group of formal and respectable Christians who, led by their pastor Henry Maxwell, decide to live according to the principle, 'What would Jesus do?' The unfolding story shows how living according to this principle totally transforms their lives and shakes them out of their previous complacency, with dramatic effects upon churches and society.
Christ our pattern
WWJD could easily be dismissed as just another gimmick or fad, especially as the book on which it is based cannot be recommended for its theology! But this would be a mistake. Understood correctly, WWJD enshrines the important biblical principle that our Lord Jesus is to be the pattern for our lives. At the same time, in the confused climate of today's church, there are dangers that the principle might be applied in an unbiblical manner.
The Scriptures clearly point to Christ as the pattern on which the believer is to model his life. Our Lord himself said, 'I have given you an example, that ye should do as I have done to you' (John 13:15). He tells us that Christians should follow his own example in their service to, and relations with, one another (Matthew 20:27, 28; Mark 10:44, 45). Discipleship is taking the cross and following him (Matthew 16:24; 10:38). The apostles likewise point to Christ as the pattern for the Christian's life. Peter wrote, 'For even hereunto were ye called: because Christ also suffered for us, leaving us an example, that ye should follow his steps' (1 Peter 2:21). Paul could say, 'Be ye followers of me, even as I also am of Christ' (1 Corinthians 11:1). To the Ephesians he wrote, 'Walk in love, as Christ also hath loved us' (Ephesians 5:2); and to the Philippians: 'Let this mind be in you, which was also in Christ Jesus' (Philippians 2:5). The apostle John also holds up Christ as the pattern of the Christian's life when he writes, 'He that saith he abideth in him ought himself also so to walk, even as he walked' (1 John 2:6).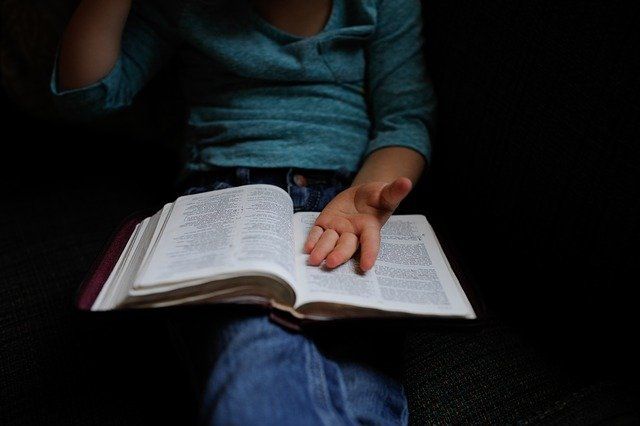 Indeed, God's eternal plan of redemption has as its goal the creation of a people transformed into the image of Christ. Paul writes, 'For whom he did foreknow, he also did predestinate to be conformed to the image of his Son, that he might be the firstborn among many brethren' (Romans 8:29; see also Ephesians 1:4-12; 1 John 3:2).
Old Testament foundations
In holding up the Lord Jesus Christ as a pattern, the New Testament builds on the Old Testament, where the ultimate pattern for the believer's life is God himself. God's people are to be holy because God is holy: 'Ye shall be holy; for I am holy' (Leviticus 11:44). But more than this, God's holiness is to be the criterion for the believer's holiness. The people of God are to be holy, not only because God is holy, but as God is holy. Thus, when Peter exhorts, 'as he which hath called you is holy, so be ye holy in all manner of conversation', he appeals to the Old Testament for support, adding: 'Because it is written, Be ye holy; for I am holy' (1 Peter 1:15-16).
The Lord Jesus sets out the same principle when he says, 'Be ye therefore perfect, even as your Father which is in heaven is perfect' (Matthew 5:48); and when he tells his disciples, 'Be ye therefore merciful, as your Father also is merciful' (Luke 6:36). Here, incidentally, we have a further proof of the deity of our Lord Jesus Christ. It is only because Christ is the divine Son that he can be held up as the ultimate pattern alongside his Father.
In the image of God
But is it reasonable to present God the Father and the Lord Jesus Christ as the pattern for the believer's life? Are the Scriptures not asking too much? No, because man was originally made in the image and likeness of God (Genesis 1:26-27). This image in its moral aspect was defaced by the Fall. Fallen man is no longer like God in his moral life. But salvation involves redemption from every aspect of sin, and the restoration of the image of God in man.
The apostle Paul writes that a person in Christ is 'a new creation' and exhorts Christians to 'put on the new man, which after God is created in righteousness and true holiness' (2 Corinthians 5:17; Ephesians 4:24; Colossians 3:10). In the light of this, to ask 'What would Jesus do?' is not only legitimate, but also fundamentally important to the Christian life. But if we are to use this principle correctly, two further questions must be settled.
How do we know?
Firstly, how can we know what Jesus would do in any given situation? The way this question is answered in Sheldon's In His Steps reveals the twin dangers of subjectivity and enthusiasm. At one point in the book, after Pastor Henry Maxwell has challenged his church to live according to WWJD, someone asks, 'I am a little in doubt as to the source of our knowledge concerning what Jesus would do. Who is to decide for me just what he would do in my case?' To this Maxwell replies, 'There is no way that I know of except as we study Jesus through the medium of the Holy Spirit', and later adds, 'We shall all have to decide what Jesus would do after going to that source of knowledge'.
According to Sheldon, then, the only way to determine what Jesus would do is to ask the 'Spirit to tell us'. This is very dangerous in the present climate of the church, when there is so much confusion about the proper rôles of the Holy Spirit and the Bible. The Holy Spirit is not 'a source of knowledge' in the sense that he imparts to us new knowledge or revelations apart from the Bible. Rather, the Holy Spirit guides us into the truth through the Scriptures. Sheldon offers John 16:13 as proof of his method, but fails to see that this promise was fulfilled in the apostles by the production of the Scriptures. It only relates to us in the indirect sense that the Holy Spirit illumines our minds to understand the Scriptures, as he takes what is Christ's and shows it to us. If we want to know what Jesus would do, we must go to the Bible to find out.
How far can we copy Christ?
Secondly, should the believer reproduce every aspect of the life of Christ? Or are there certain areas of Christ's life and actions that we cannot copy? This is important. Many Charismatics claim that Christians are not wholly following Christ unless they perform the same miracles as he did. But is this correct?
Here it helps us to revert to the Old Testament. There, God himself is our pattern, yet we obviously cannot be like God in every way. Indeed, the desire to be like God in illegitimate ways lies at the very root of sin (Genesis 3:5-6). As John Murray puts it, 'There is a sense in which to aspire after likeness to God is the epitome of iniquity'. The sin of Adam and Eve was to want to be like God in knowing good and evil (in the sense of determining it for themselves).
So we must ask, in what respect it is legitimate for us to pattern our lives on Christ? For example, Christ came into the world to save sinners by giving his life a ransom for them. It would be blasphemous to assert that we can do the same. Yet the Scriptures use Christ's willingness to lay down his life as a model for the Christian's selfless service to others (2 Corinthians 8:1-9; Philippians 2:1-11).
Our Lord's miracles also belong to the category of actions we cannot copy. Christ as the God-man had power to work miracles at will, to relieve the sufferings of the sick and maimed. We cannot do the same, and it is significant that nowhere in the New Testament is there an exhortation to work miracles because Christ did. The Lord's miracles were signs of his true identity and of the divine authority of his mission (John 3:2; 5:36; 7:31; 9:16, 30-33; 12:37; 15:24; Acts 2:22; 10:38). Yet Christ's healing miracles are an example to us of his compassion, and we will seek to relieve the sufferings of others in every way we can.
With these limitations, WWJD should be the question in every Christian's mind. Let us constantly ask ourselves, 'What would Jesus do?' and so grow 'in the knowledge of our Lord and Saviour Jesus Christ' (2 Peter 3:18).