Elizabeth Margaret Braund, MBE, died on 20 May at her home, East Shallowford Farm on Dartmoor. Founder of Providence House and the Shallowford Trust, she was born in Kensington in 1921, the only child of Sir Henry and Lady Margaret Braund.
During early life experiences in India and Burma she learnt to think critically. After the war she began to work for the BBC, writing scripts and undertaking research. She researched the history of the Bible for a radio series and this began the journey which led to her life's work,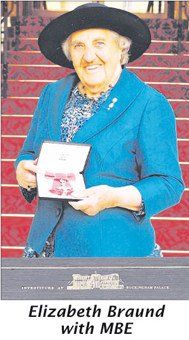 Elizabeth was full of energy and had an inquiring mind. With some guidance from Dr Lloyd-Jones, she launched herself into a series of Christian journalistic projects. The culmination of this was the founding of the old Evangelical Magazine.
She was managing editor of the magazine throughout its life, until it moved to offices in the empty Providence Chapel in Battersea in the early sixties. During that time the door opened to a new kind of mission for Elizabeth, so she was unable to continue her editorial role.
The community around the old church was largely unchurched and had been badly affected by bomb damage during the war. The area was earmarked for redevelopment, with modern housing estates to be built.
Providence House
Elizabeth began working with children and young people, and Providence became a thriving centre for young people and families. She was supported by Rosemary Bird, in particular, who became a lifelong colleague.
With the help of Christian friends from Westminster Chapel and elsewhere, Providence House was established and grew. Following the redevelopment of the area, a new purpose-built centre was opened on Falcon Road in 1970.
The work at Providence House was in the centre of social and demographic change. However, early on Elizabeth saw the negative effects of living in 'the concrete jungle'. She felt compelled to find something new for her community outside the city.
In 1976 she secured the funding to purchase East Shallowford Farm on Dartmoor. Since then, inner city families and young people have visited the farm and returned enriched from the experience. Elizabeth's faith and commitment was an inspiration to those who were earnestly seeking a sense of vocation.
The work of Providence House and the Shallowford Trust carries on all that she began so imaginatively, under the leading of God.
Robert Musgrave