William Henry Cherry, known to many as 'Harry', was pastor of Halland Chapel from 1971-1989, and was known and loved widely for a dedicated Christian life that spanned 80 of his 95 years.
He was born in Cottingham, East Yorkshire, in 1917, educated in the village school, and matriculated in 1933 from Hymers College, Hull.
He had been enrolled by his father in Cottingham parish church choir and confirmed at 13 or 14 years of age, although he experienced no change of heart and was conscious of an emptiness within.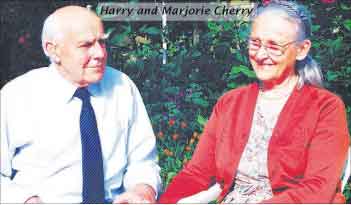 But he was introduced to Crusaders by a fellow passenger when commuting to Hymers College, and when 15 attended a Crusader house party in Buxton. There he heard, understood, believed and responded to the gospel, trusting in Christ as Saviour and Lord.
Harry was employed at age 16 as an office boy and studied at night school for a Chartered Institute of Secretaries qualification. When the Second World War broke out and the Maginot line fell, he volunteered to enter the Royal Medical Corps, but was enlisted in the Royal Artillery (anti-aircraft section).
Later, as a Captain, he was posted to the Far East. During the journey, Singapore fell to the Japanese, causing the regiment to be drafted to India. Captain Cherry was the only Christian in his battery and organised Sunday evening services for hymn singing and gospel preaching.
After the war, he felt called to mission work and remained in India, joining the then Ceylon and India General Mission, afterwards called the International Christian Fellowship.
London
In 1946 he married Miriam Stanton, to whom he would be married for 33 years, but ill health called them back to London.     In 1948, Mr Cherry became general secretary in the home base of the International Christian Fellowship (now merged with SIM), based in London. They joined Westminster Chapel.
Harry Cherry remained in London for 22 years, being involved in deputation ministry, but gradually felt the call to pastoral ministry. He became pastor at Halland Chapel, in East Sussex, in 1971.
In 1979, the Lord took Miriam to be with himself. Although devastated, Mr Cherry continued with the work and, in 1981, married Marjorie Dawson, who was also a missionary from India.
In 1989, after 18 years, he retired from the pastorate and commenced an itinerant ministry. After some months, he joined the fellowship in Providence Chapel Brighton, a work he had on his heart since preaching there during his time in Westminster Chapel.
In January 2006, Mr and Mrs Cherry returned to Halland, he then being 88 years old. But in 2012, during the summer and autumn, the amazing health and strength of this servant of God began to deteriorate slowly.
Early on the Lord's Day morning of 9 December 2012, the Lord took his faithful servant home. On 20 December, after the funeral service, Pastor Abe Thomas committed Harry's body to the grave in Halland burial ground. Mrs Cherry said, 'The 31 years that I was married to him were the happiest in my life. I couldn't have had a better husband'.
Georgina Giles