Founding members of Moldova Ministries, Peter McFarlane and John Angus, recently retired as trustees after many years of fruitful service. In this period (post-perestroika) they saw the cause of Christ blossom, with churches being built and congregations being planted in many urban and rural situations.
Moldova Ministries (MM) continues to support many social ministries among the young and elderly in Moldova, particularly through the recently built Bethany Church in Ciocana, on the outskirts of the capital city of Chisinau. The Republic of Moldova is in Eastern Europe, between Romania and Ukraine.
Peter's last visit to Moldova, in September, was his 78th in a period of 22 years, and he said, 'In many ways, I'm leaving part of my heart here in Moldova'.
William Mackenzie and Iain Mac-Askill, who has visited Moldova several times in the last few years, continue as trustees and have been joined by Raymond Angus, who replaces his father.
If you would like more information on, or details of how you can support, MM, please contact its treasurer
martin.maclean@christianfocus.com
.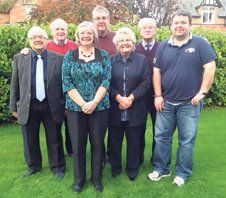 (picture: l. to r): John Angus, William Mackenzie, Dorothy Forwell, Iain MacAskill, Jessie McFarlane, Peter McFarlane, Martin MacLean